4 awesome reason to head down to Juara Beach, Tioman Island, Malaysia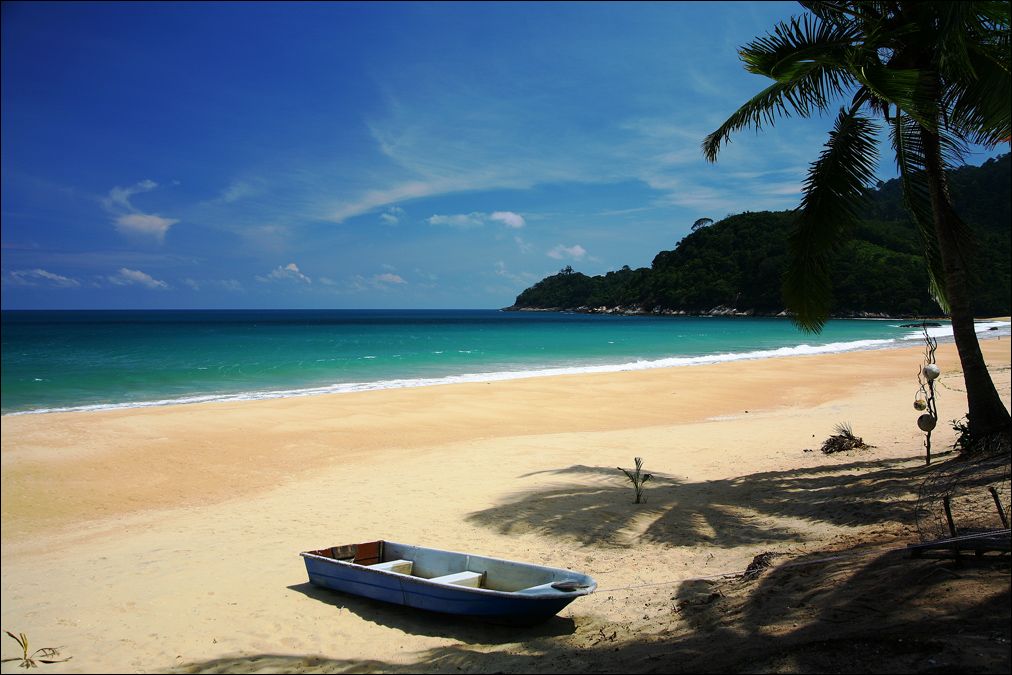 1. freakin awesome beautiful beach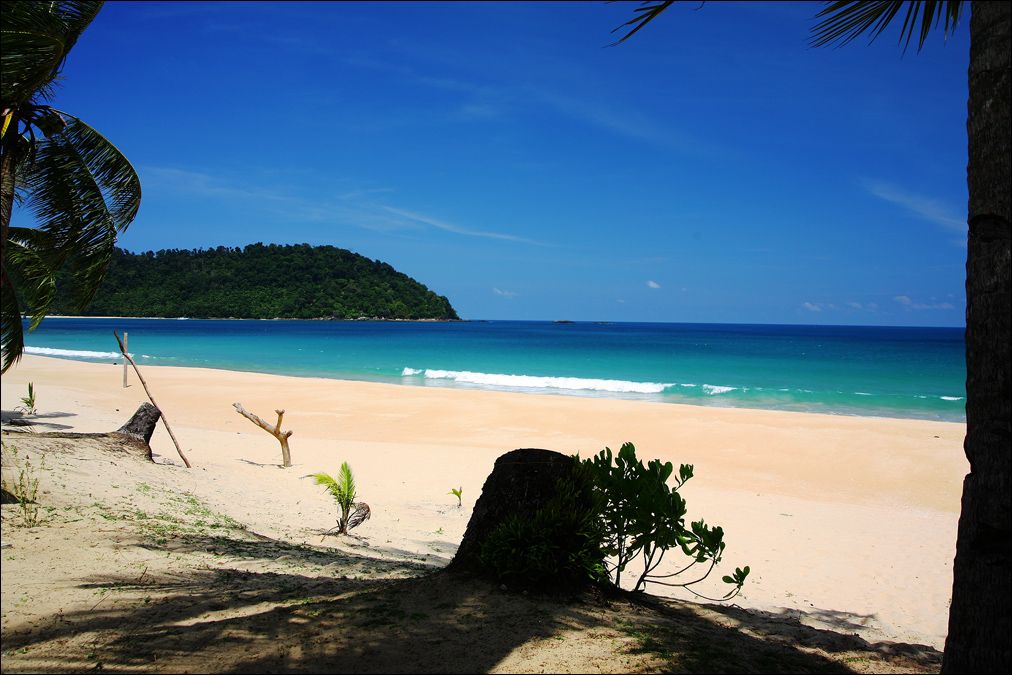 2. there's hardly anyone there.
3. crazy mad cheap duty free beers. and chocolates!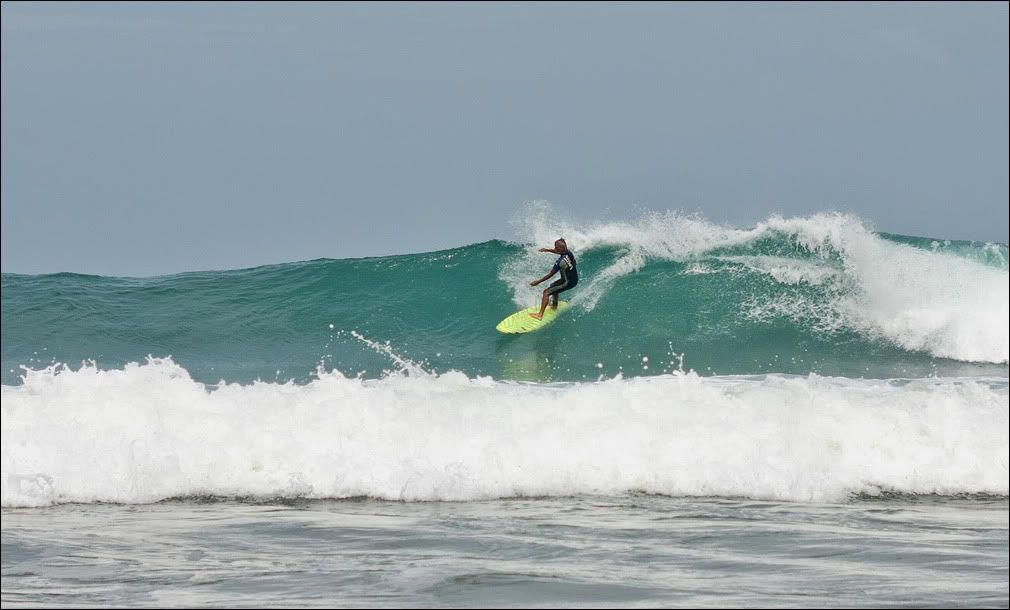 4. epic huge waves for surfing!
How do you get there?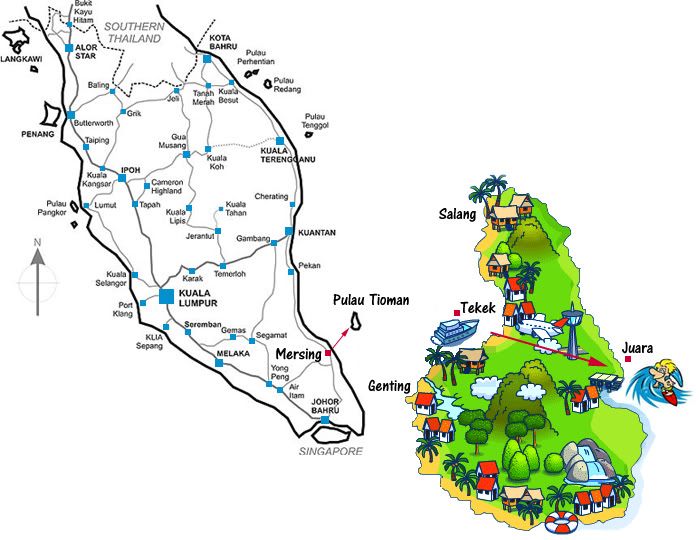 Introduction
Juara, Tioman's east coast is a quiet and peaceful part of the island - a perfect hideaway with its crystal clear water, beautiful beaches fringed by swaying palm trees and enclosed by beautiful lush tropical greenery. The facilities here are quite basic and tourism is somewhat under developed due to lack of easy access to Juara. The evening and nights are idyllic. There is no traffic and no noise. Juara is quiet, calm, tranquil, and serene.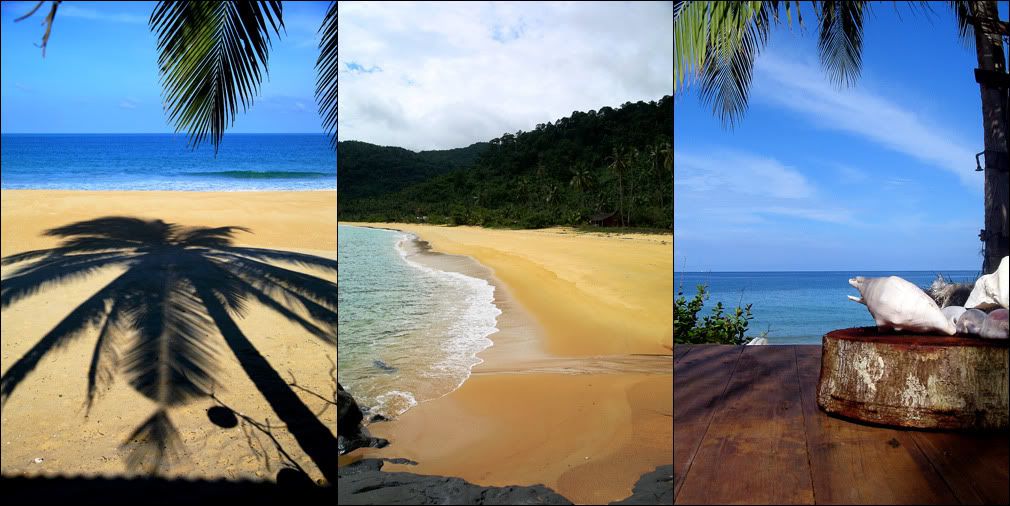 Getting to Mersing
Mersing, located about 3-4 hours' drive north-east of Singapore - is the jumping off point to Tioman. If you're taking the bus, you may need to spend the night in Mersing in order to catch the early morning ferry to the island. Or if you're from KL - get the midnight bus so you'd reach Mersing at 6:00am. Bring a sweater by the way, as the air-con in the buses will freeze your face off.

Taking the bus

Transnational busses will arrive at the bus station in the centre of town. Cabbies will usually approach tourists with the deer-in-the-headlights-look and offer a ride to the jetty for RM10 / RM15. Unless you're a paraplegic - its only 15 minutes walk to the ferry terminal.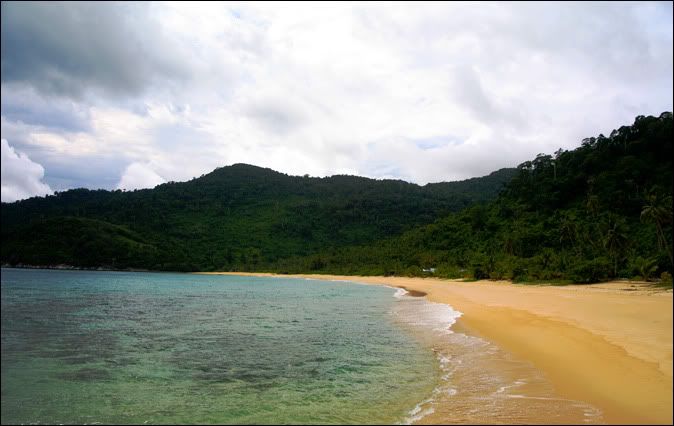 Ferries to Tioman
Ferries (150 passengers) depart from Mersing and can take up to 3 hours. Tickets cost RM 35 each way and they leave every two to three hours between 06:00am and 6:00pm but during the monsoon season (November to March) services are less frequent and delays are more likely where ferries might depart once or twice a day. Tidal conditions may influence the departure time of the ferry. There are approximately 6 jetty stops at Tioman island where the ferry will stop by to get people off and on the ferry, get off at Tekek jetty.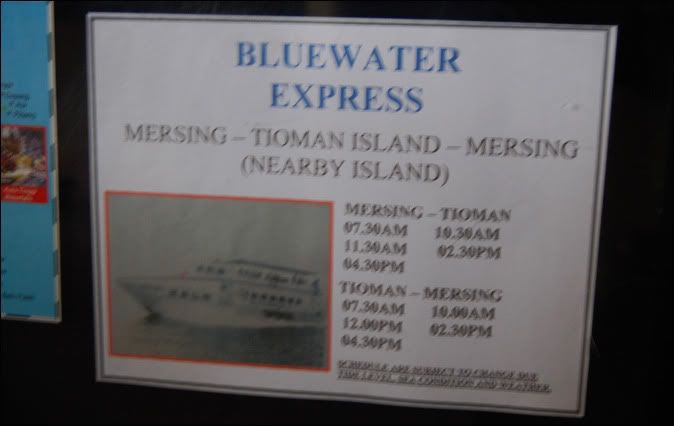 Damn these shaakey hands
For schedule confirmation, do call the ferry dudes in advance, Blue Water +607.799.4811 / +607.799.8518
4WD or hiking (?) to Juara
Once you get down at Tekek, you need to take a 4WD to get to Juara beach, which is at the other side of the island. Unavoidably there will be touts waving you over to their 4WD and indeed, never has there been a better moment to try your hand at haggling, where usually only reserved for far-flung markets that serves creepy crawlies bugs as lunch.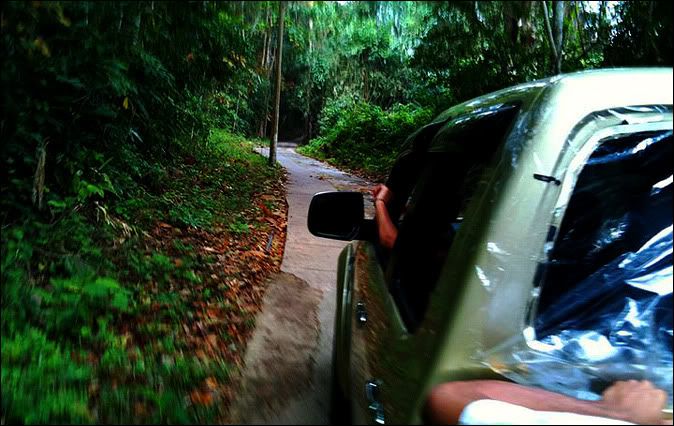 So this is the raw deal, the rate usually goes for the whole vehicle - irrespective of number of passengers the nominal rate is RM60-RM70. The touts will insist that taking the 4WD will set you back a. about RM100 and above or b. charges RM50 per passenger. So do what you have to.
Usually there will be locals / tourist / surfers going to the other side then you can share the cost but if you're traveling alone and by some crazy mojo bad luck there's no one else, prepare to do some hard haggling or you can
hike!
its a 3 hour hike through thick Malaysian tropical rainforest via a puny concrete road and there are beautiful waterfalls along the way to freshen up so its not all bad yah.

Accommodation & Surfing
There are a few accommodation available in Juara but i always head down to the budgety Beach Shack, owned by an Australian surfer Tim and his wife, Izan. Accommodation prices, per night basis:
Tents with sleeping bag for 2 persons RM 30.00
Dormitory 6 beds attached shower - per bed RM 15.00
Small room for 1 person shared shower RM 20.00
Room for 1 - 2 person shared shower RM 35.00
A-Frame chalet 1 - 2 persons shared shower RM 40.00
Chalet - garden 1 - 2 persons - attached shower RM 45.00
Chalet beach front 1 - 2 persons - attached shower RM 55.00
Double story chalet beach front: please call for price
Beach Shack prices are subject to change without prior notice off course. Do please give them a call, scroll downwards for their contact number.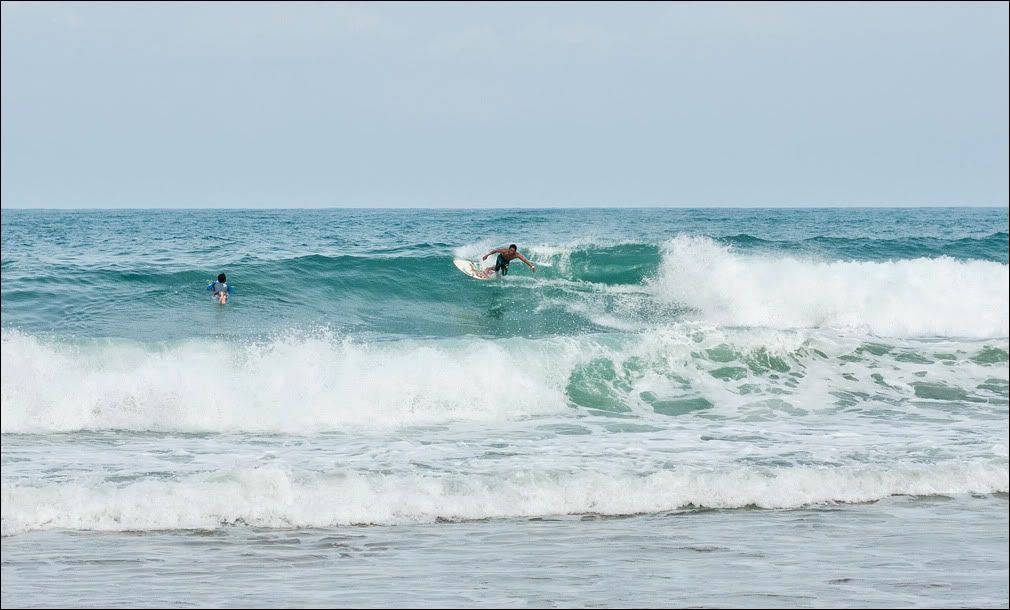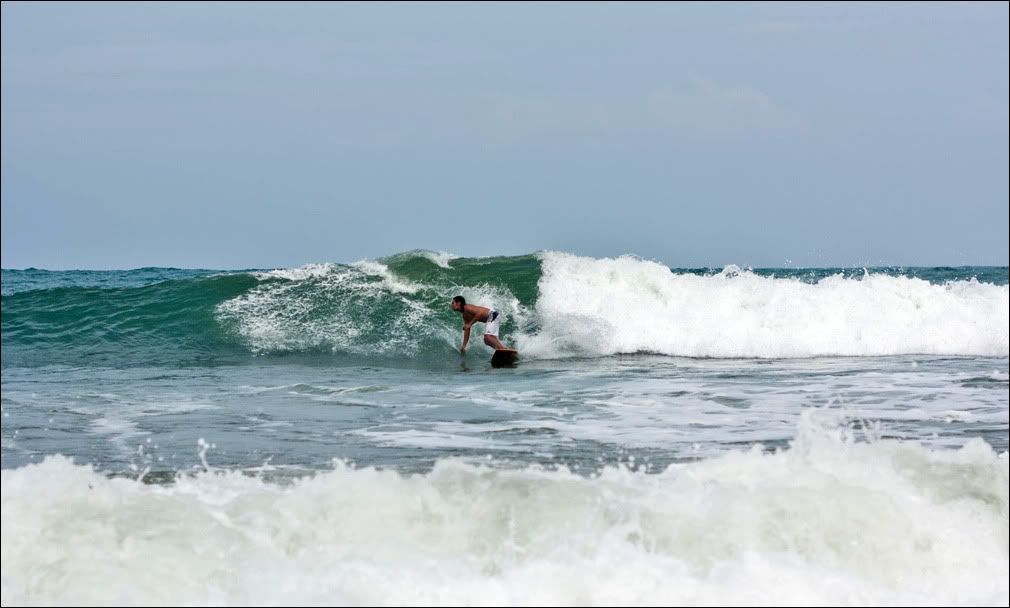 Surf lessons starts at RM60 / hour and with Tim's tutelage of fundamental wave catching skills you'd be surfing in no time. Unless you're a total idiot you wont be needing more than an hour. Body boards, surf boards (shorts and malibus) are available for rent.
For bookings and inquiries +609.419.3148 / +6012.696.1093 and more photos:
Beach Shack Tioman @ Facebook

Reading Materials
Notes
Its quite cold during the Oct - March monsoon season, bring a hoodie or a jacket
Get your booze, cigarettes and chocolates at Tekek side
Food is generally expensive at the Juara side of the island, so bring some bread, peanut butter, tidbits, cookies to help save some moolah
3G and GPRS mobile internet reception are available here, with somewhat intermittent connection
Dont forget your aftersun lotion.
Sandflies are a nuisance here, be prepared with some ointments and meds if you get bitten.