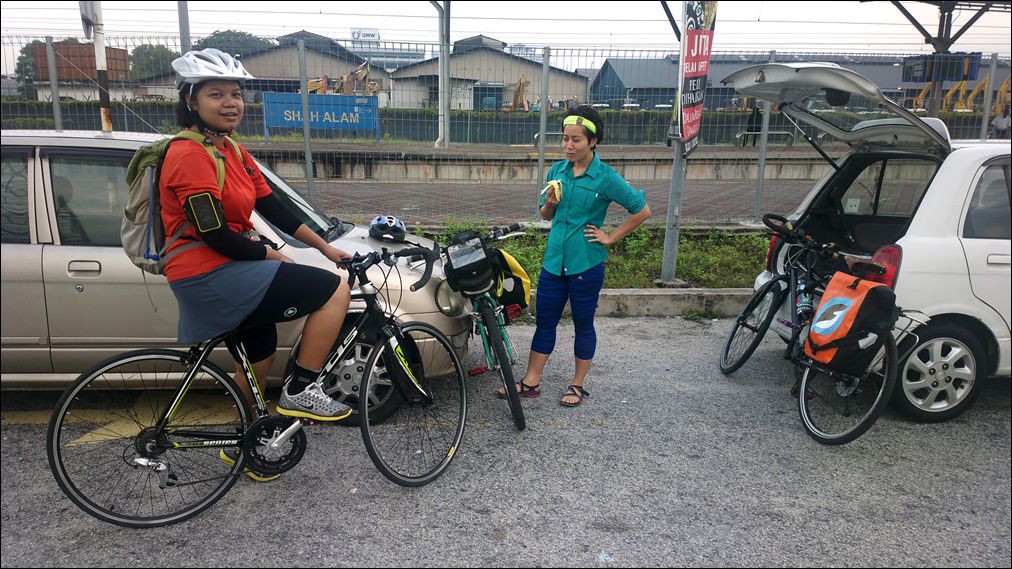 The plan was to meetup and start at the Shah Alam Komuter Station and make our way to Morib and back before sunset. Plannya pukul 7, last last gerak at 830am. The route passes by various small towns via old trunk roads and we slipped in and out of main roads to bypass the busy highways. It's quite unfortunate that the trunk roads from Kota Kemuning onwards to Jenjarom are plied by huge 10 wheel trailers that rumbled at top speed, barely missing us as there were hardly any space to cycle.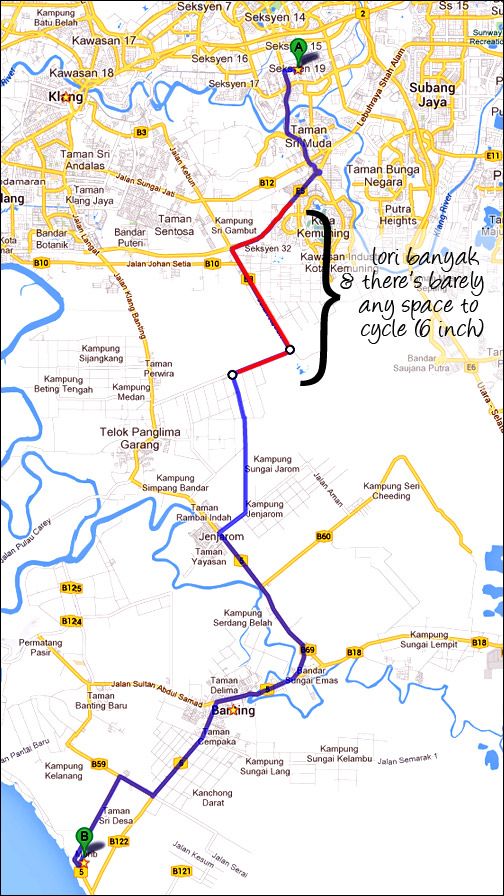 The 50km Shah Alam to Morib map and cik adik dua orang - Cik Baha and Cik Wan sempat mintak vain shot while I was looking through the map. Made the mistake of mentioning the existence of an ice cream Coconut Shake place on the way towards Morib - where somehow they just wouldn't stop talking about it, asking me is it nearby already, where is the stall, how good is it. Adoi.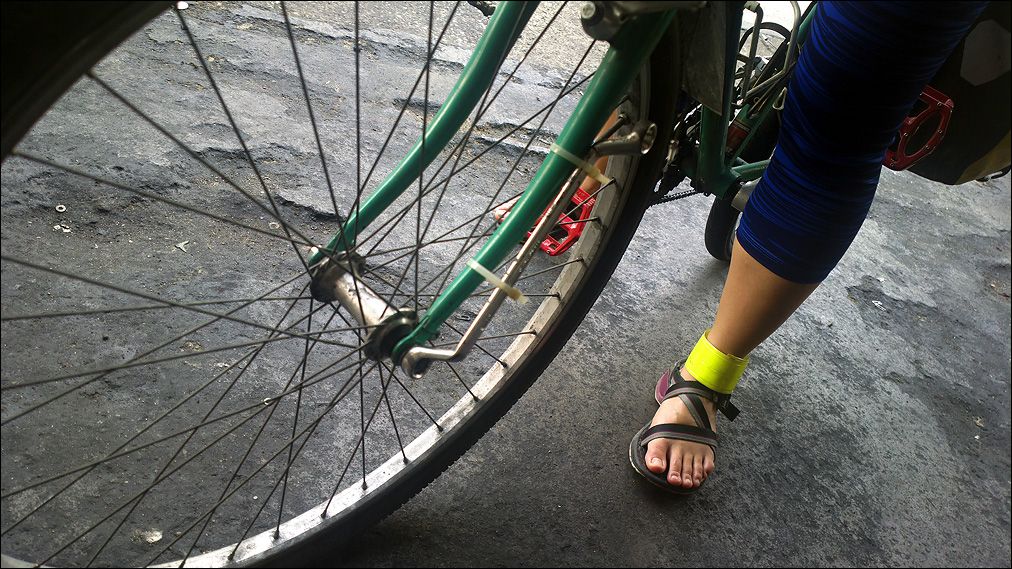 I guess one of the most important aspect of riding a bicycle is to make sure your bike is at least in working order. Besides her wonky front brakes and jiggly jaggly headset, Baha's hub nut thingy decided to die at the best opportune moment. I had to Macgyver that shit out until we reach a hardware store. Yes, I know she has perfectly well formed calves - focus.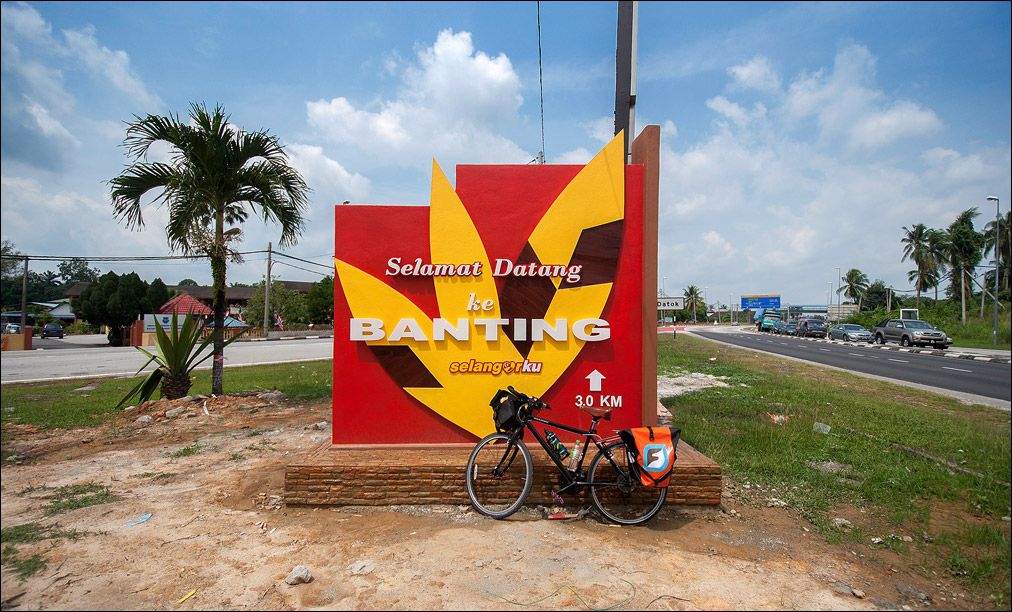 Yay. Banting, 30% lagi. Incase you guys are wondering, that F insignia on my rear pannier is the Fakawi Tribe logo, as they were awesomely coolballs to sponsor me the rear panniers in preparation for the KL - China / Istanbul trip. The current tentative date is probably on 16th September, on Malaysia Day. The plan is to do a short warm-up ride. Which is KL - Singapore - Kelantan, Tumpat. Then do a Pattani loop back to Perlis via Sadao, because I dont think I have the cahones to cross the scary mountainous Jeli route but somehow rather risking getting shot by South Thai insurgents is not exactly a better alternative. If all goes well, I'd head straight down back to KL - singgah Penang for Nasi Kandaq Pokok Ketapang and the excellent Toh Soon coffee and kaya toast. Nyums!

I'll stay for a few days in KL to submit the bike review to Rodalink, as that was requested off me for the partial Marin bike sponsor from Rodalink. Then baru I'll shoot up to China.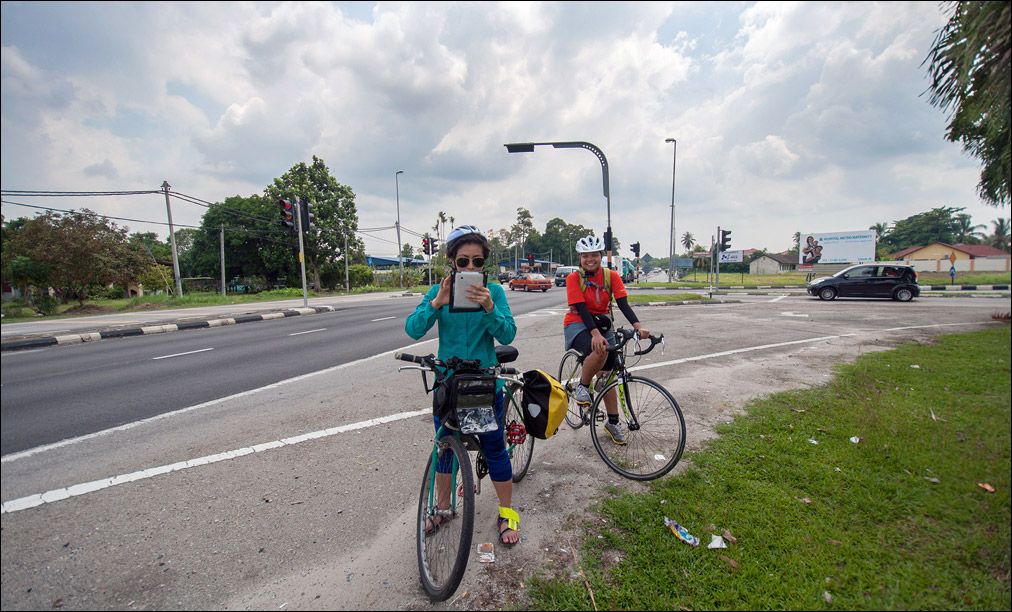 Baha's trying to figure out sekolah lama dia kat mana.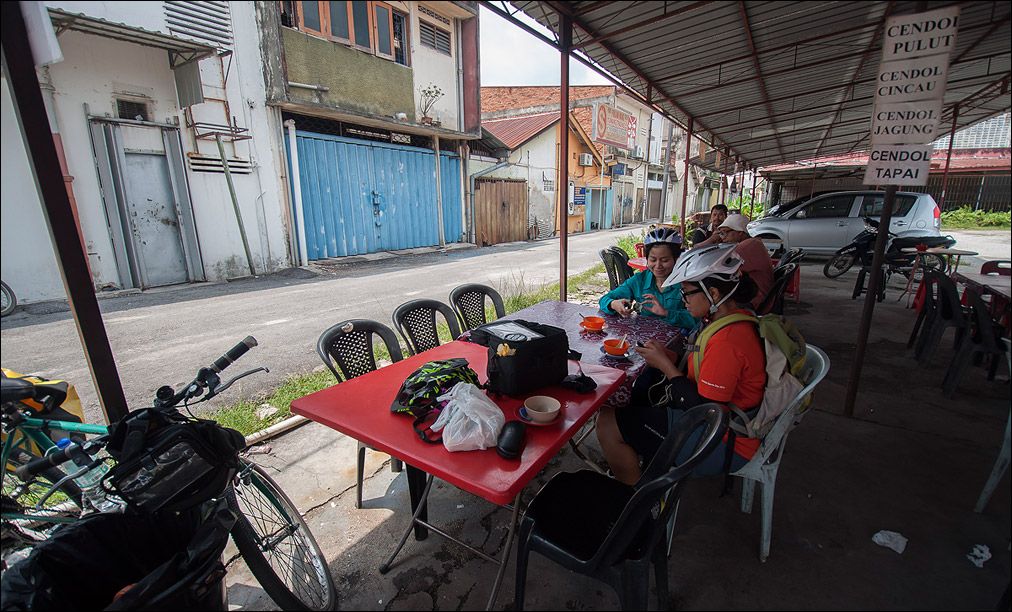 Before exiting Banting towards Morib, we stopped at the 'famous' Banting Cendol place. This place has its 4sq tag and #cendolbanting hashtag on Instagram. Is it any good? Biasa aje. Obviously its just a mere shadow to the excellent thick brothy gula apung Melaka cendol wei. No, Coconut Shake jauh lagi korang.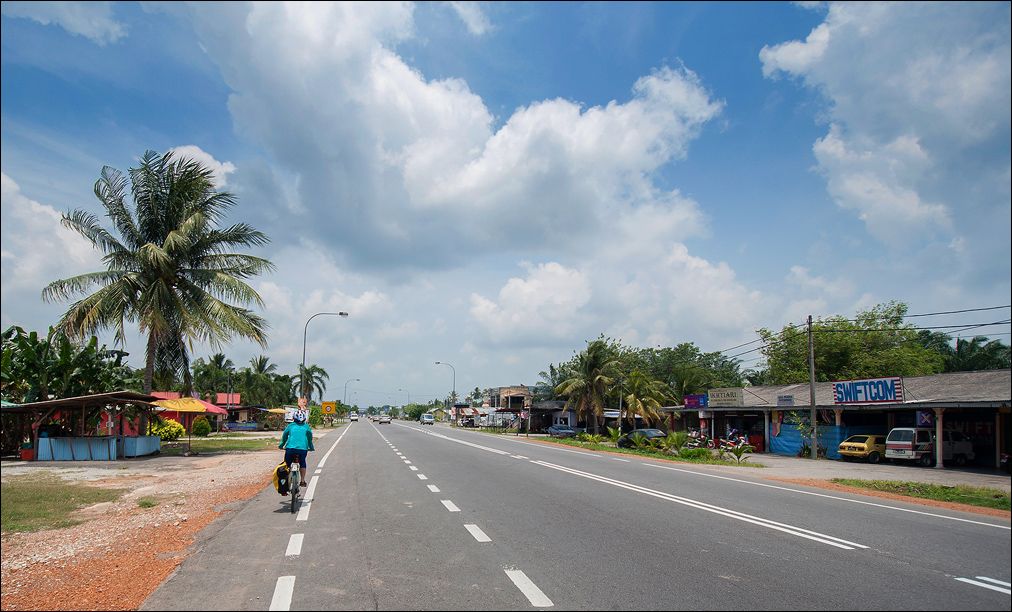 Cik Baha leading the pack, shouting constantly over the ruffling headwind "WHERE IS THE COCONUT SHAKE?"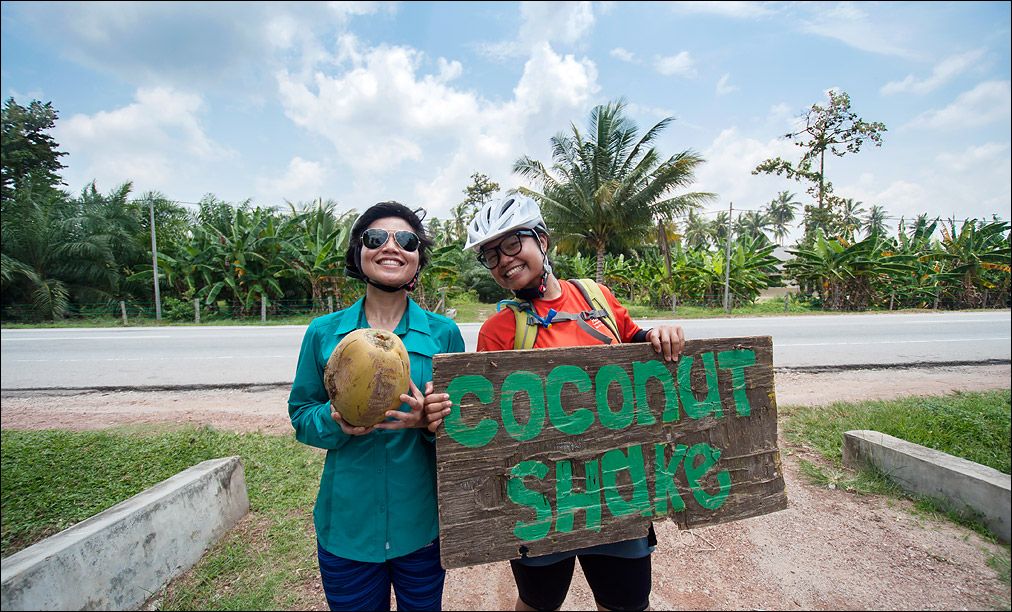 Tengok tu. gembiranya muka bila finally jumpa gerai Coconut Shake. Its good lah. But subjectively, anyfink that's icy cold, blended with a dollop of ice cream is great when you're literally cycling under the 1pm sun.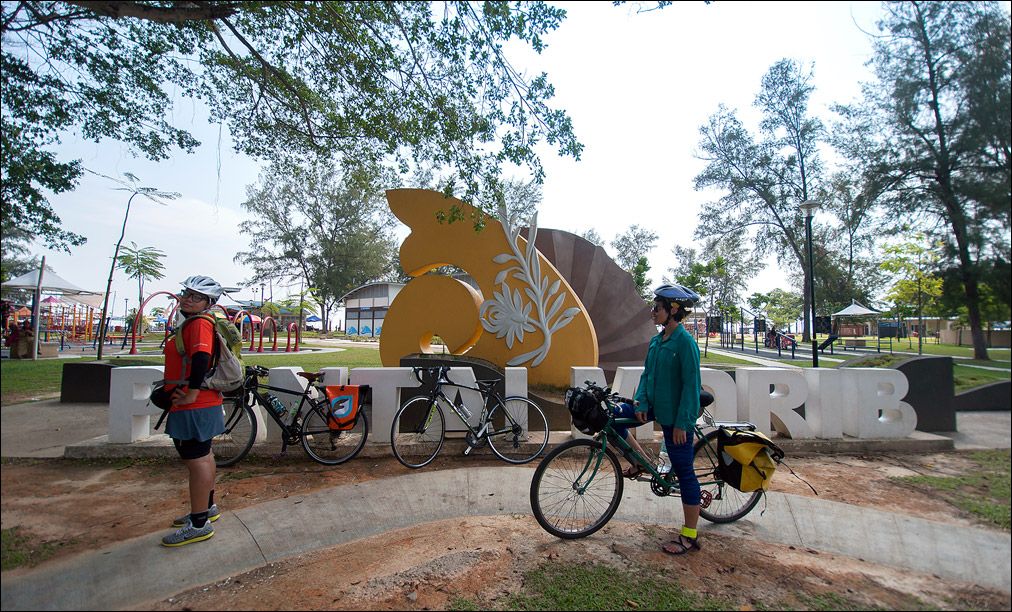 Cik Wan with a very avant-futuristic pose.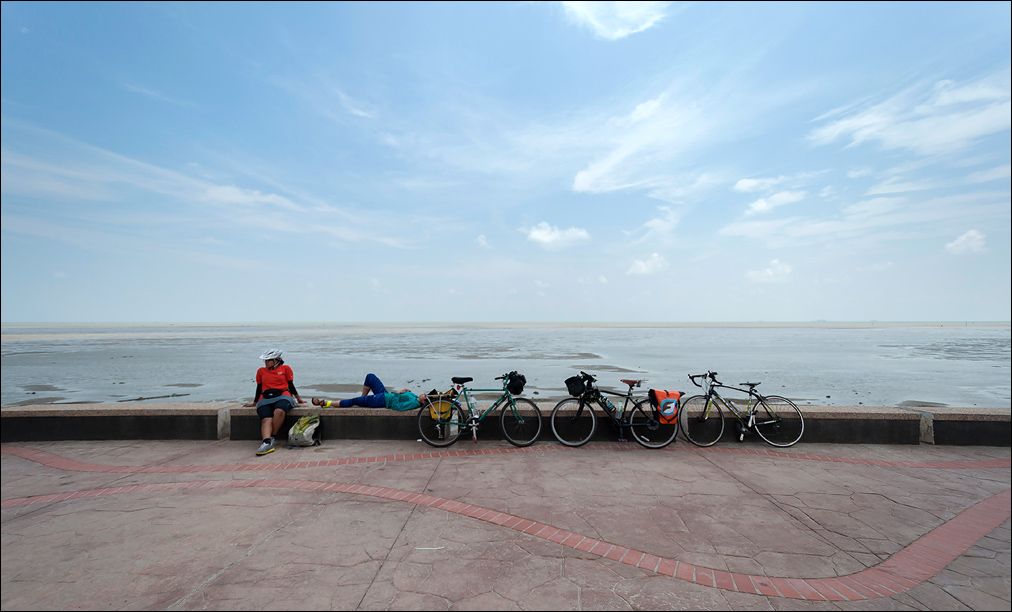 My breath was filled with the heady scent of Morib's brewing sea, crashing waves and of salt. Closing my eyes as I savoured the brine, a paradisiacal ambrosia - I can live for years having tasted nothing but the sea, without a complaint leaving my lips and live out the rest of them with nothing but its exquisite tang gracing my taste-buds.

Which basically translates to: angin laut so nice so I took a nap under a tree. Gila awesome.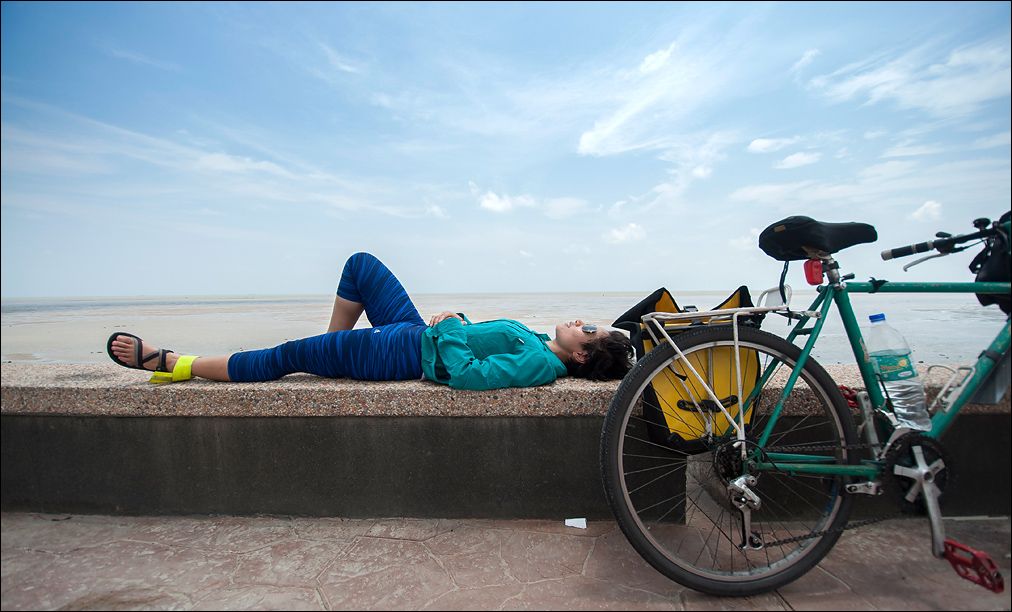 We reached Morib at 2pm and left at an hour later right after lunch and loadsa fruit juices. Funny how it took us 6 hours to reach Morib and only 3 hours to make the return trip back to Shah Alam. Also, this is Cik Wan's first bicycle ride so it was a huge surprise that she managed to complete the ride. Off course she did tarik muka, developed cramps and contemplated of hitching a ride back - taking a cab or hail down a lorry back to Shah Alam but she persevere dengan gagahnya.