I was abruptly woken from a barely there slumber. My hands leapt out to my right, scurrying in the darkness - reaching for my glasses. Blinking and rubbing out the tiredness from my eyes, looking up, i realised i was looking straight at the sky.

FUCK. Where's the tent cover?!!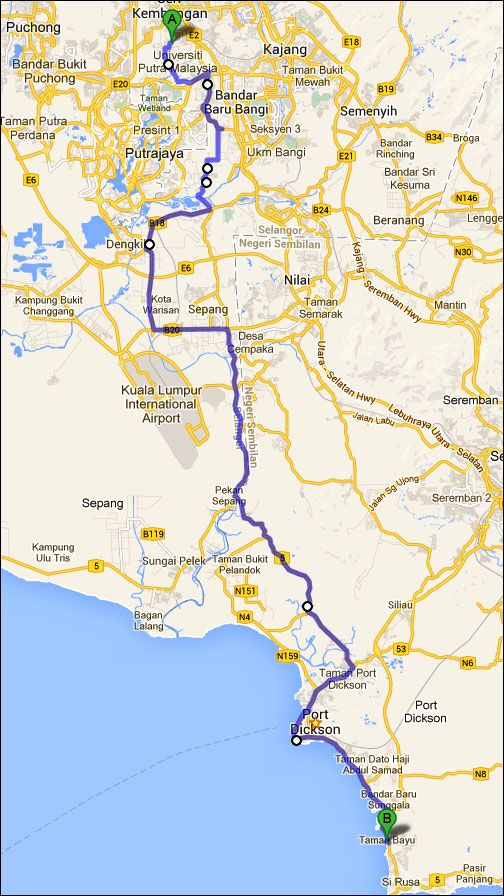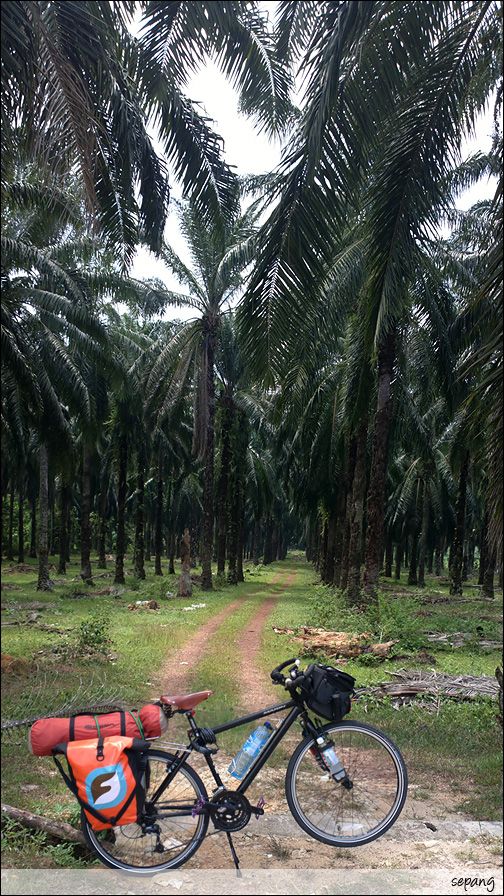 At 10am - right after a quick roti canai and roti jantan breakfast, I waved farewell to Akmal and pedaled 97km from The Basikal, UPM to Port Dickson as the first leg of my Malaysia cycling loop. A sorta warmup trip for my overly ambitious Malaysia - Istanbul trip that I shall (will!) undertake some where in November/December 2013.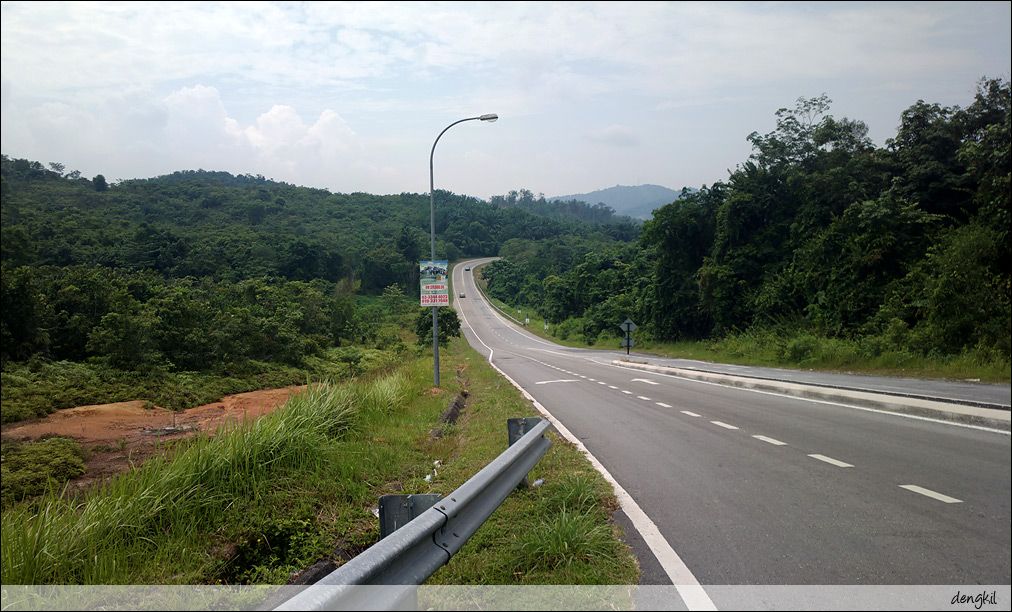 Went through Dengkil to Sepang via kelapa sawit plantation trunk roads. Roads are narrow, winding and loadsa uppidy downie with gigantic lorries plying the road but not so many cars. It was really hot with no shops nothing in between. Bukit Pelanduk agak suck ass.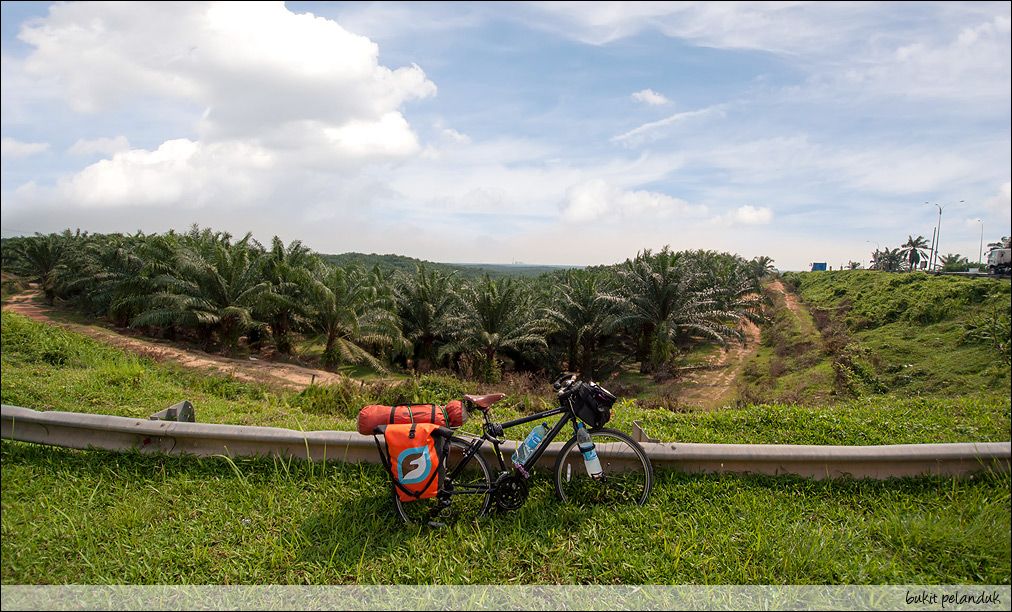 The road from Kuala Lukut onwards is peppered with coconut ice cream shake and iced sugarcane juice stalls due to the proximity to beaches. I had one too many of 'em creamy delicious drinks that it made me bloated half way through the ride.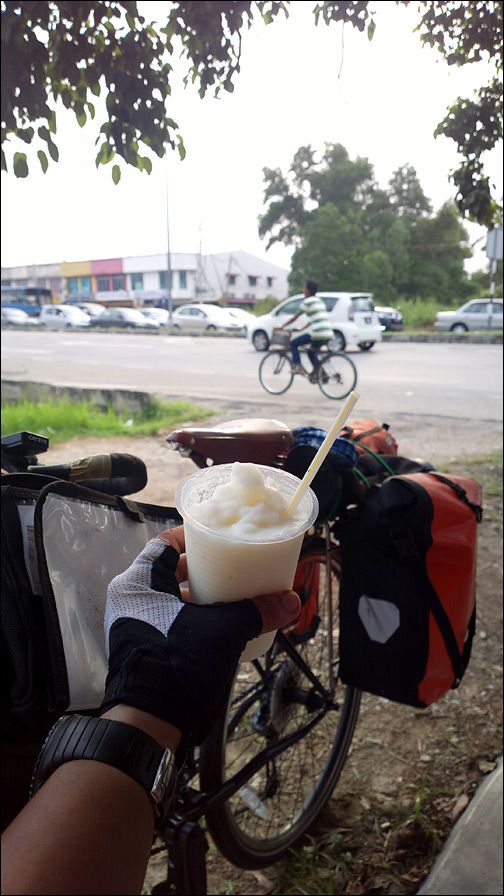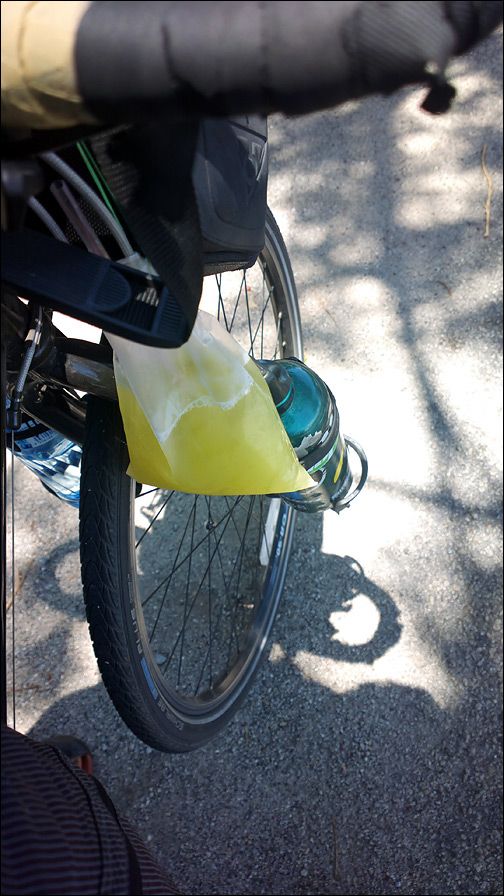 Upon reaching PD, the first thing that struck me was how 'happening' the whole beach front was, although it was the middle of the week. Loadsa cars and food stalls lined along the main road. Families, couples, kids kicking around colourful plastic balls dotted the many beaches throughout the evening. Tikars were fluffed, laid on the beach and families settled down for a picnic dinner as the sun dipped into the horizon.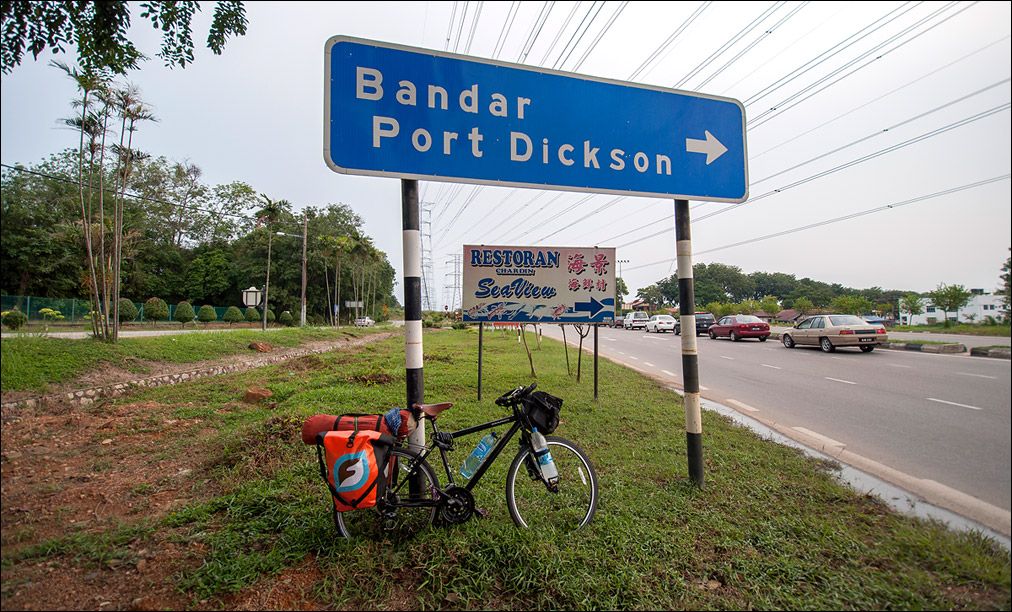 This makes looking for a secluded beach to camp away from curious prying eyes a significant feat. About 7pm, right after Teluk Kemang and my umpteenth time stopping for food i don't need - i stumbled upon the Purnama beach. Where the pavement ends and the sandy beach starts, i dismounted from my bike and slowly pushed my way through the darkness, with rumbles of unfaltering crashing waves and silhouettes of swaying coconut trees dancing in the wind at sunset welcoming me.

The beach was quiet and dark, not a single soul in sight. Perfect for stealthy camping. There were abuncha gazebos all over the beach and i reckoned they would be useful if the weather turns tonight. So i set up camp in one but moved to the beach when i realised I needed to stake the tent cover to the ground. But instead of the required 10 stakes, i just used 4 and tucked in after a quick shower from a bottle of water.

The beach was not entirely empty you see, a cat sniffed, rustled my tent and wanted in. Horny frogs hoping for a shag went ngeongeongeong non-stop for a few hours and i could even hear the distinct pitter patters of dogs going up and down the beach. The odd kupang harvesters, like long lances - zigzags the night skies with lights from their headlamps, reminded me of Hamburg's searchlights during the B-17s bombing raids in old WW2 documentaries. Zipped up in my tent and in between of all that 'quiet' commotion, the crashing waves lulled me to a much needed shuteye.

................... GODAMNIT

I'm wet. And my stuff in the tent was wet jugak. It's raining. No, it's a storm. A massive storm. The wind was blasting erratically, ripped off my tent cover and spat it out god knows where - the trees were moshing to the odd rhythm of thunder and deep rumbles of the clouds. Thousands of pin needle pricks of tiny raindrops swathed all over me as i stood drenched wet in my boxers outside the tent wondering what to do in the dark.

My watch showed the time – 3am. The tent cover was gone and i needed to move my tent, panniers, and bike. Weirdly enough the first thing I did was to look around for the cat, hoping she had time to find cover.

Barreling and ducking against the feverish rain and storm, i dragged everything to a nearby gazebo/hall place. i was lucky enough to find the tent cover strewn about a few feet away stuck against a long bench, like a monstrous kraken hentai creature in the dark with long tentacles of penises flailing wildly. Somehow i took this opportunity to have a nice but terribly cold windy shower. The soap and shampoo was out, towelled myself down, dried the insides of my tent before i went back to sleep.




I guess, one of those things that everyone has to experience is to be softly woken up by the sanguine caressing sound of gentle slow waves. It's like that wondrous feeling when your significant other nuzzles their nose on your chin waking you up but instead wafts of French toast for breakfast; it's the sea-salt scent that permeates the air and the cold, affable early morning breeze envelopes and sponges your tired body like a thick blankie.

It was awesome la wei. Rasa macam taknak bangun and lay there for hours.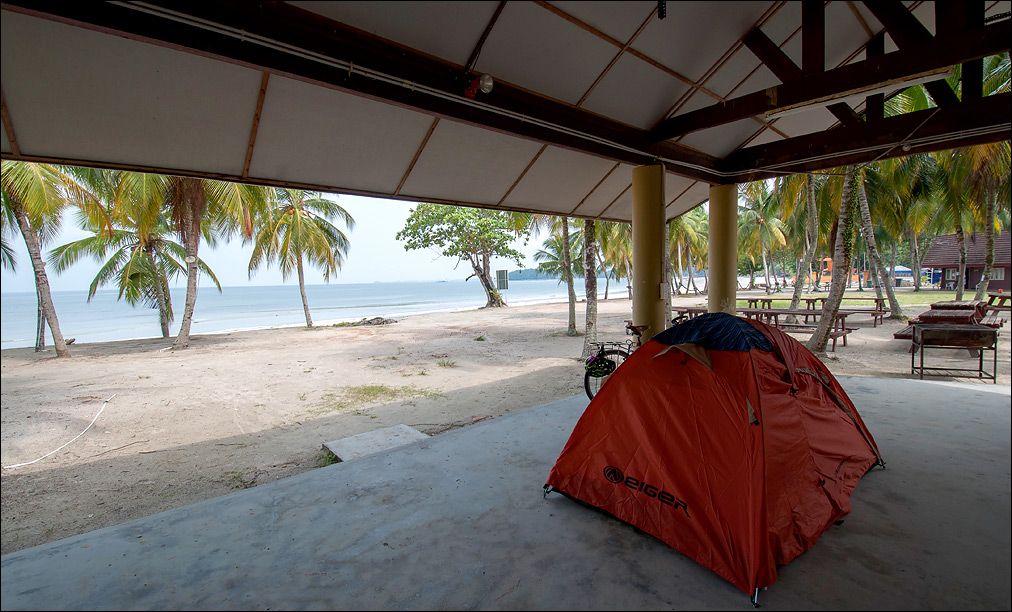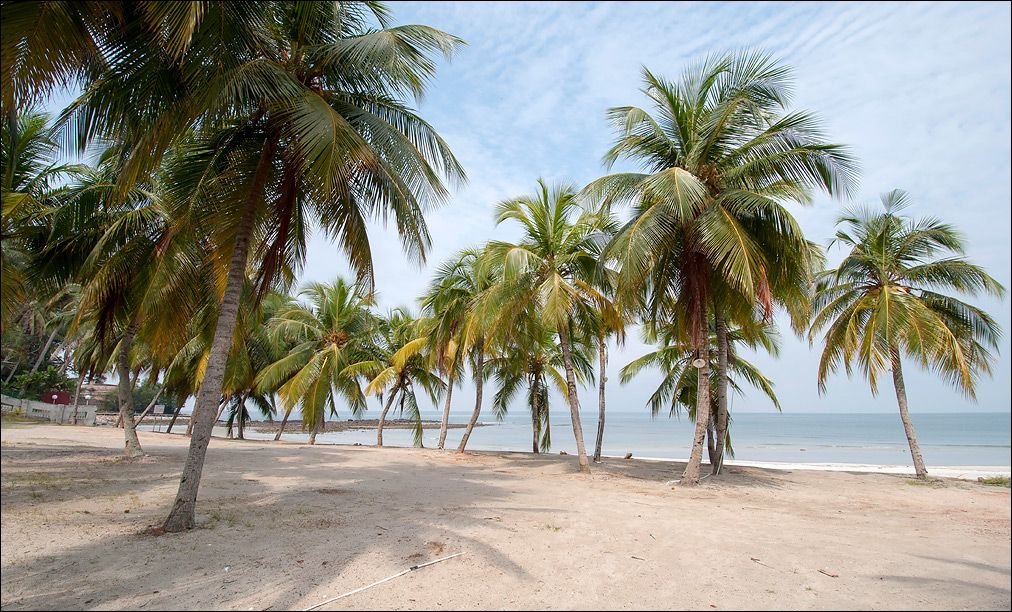 i'm quite impressed by the water in PD ni. Dulu the beach stretches penuh dengan sampah, air kotor gila, berkeladak and i remembered one time tengah mandi laut donkey years ago ada 'balak' terapung inches away from my face. i guess these days they've cleaned it up rather well, air pun clear. Of course lah you cant compare to Perhentian or Koh Tarotao but still.. i did mandi sampai pruney. heheheh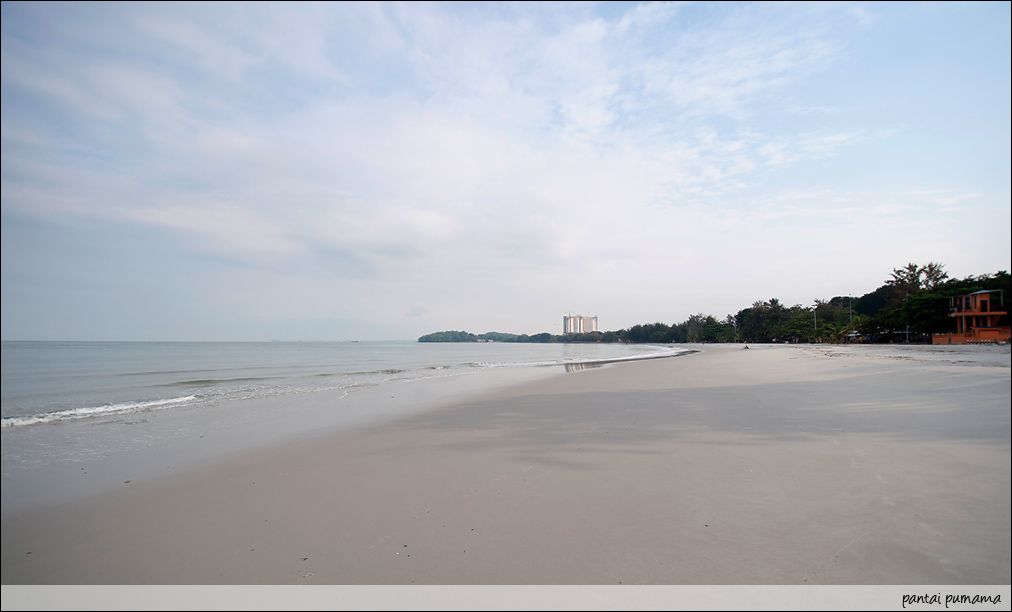 i was all pruney indeed after being in the sea for too long and jumped out panicky when i realised it was already 12. i need to cover approximately 70km to Melaka and i don't wanna pedal under the hot scorching sun. Too late for that lah kan.