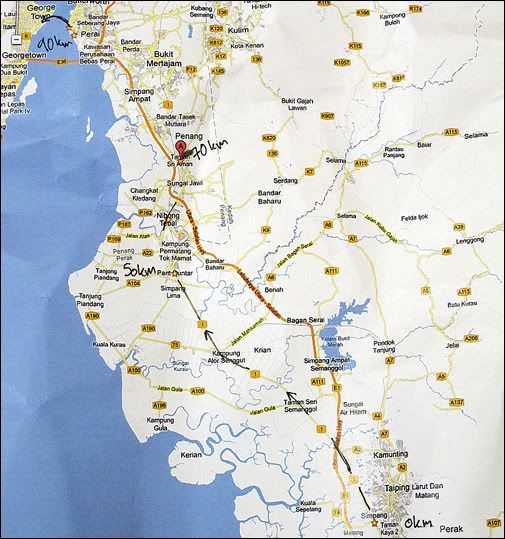 Day 4: 96km Simpang - Georgetown
Left Simpang at about 8.30am after a cheap and good nasi lemak ayam, 3 half boiled eggs and teh o limau RM3.50 breakfast. Mad cheap.
t

raffic starts building up right after Parit Buntar. loads

a h

uge 10 wheelers, trailers, high speed cement lorries and assholic vacous suckholery sundried pea brain W plate KL drivers that tend to drift towards me for no particular reason at all. seriously whathefuckjoe?
b

rilliant tailwind in Semenggol, so i tuc

ked in

mash

ed

hard rode fast where i covered 20km+ under 30 minutes which afterwards i pedaled like a fat

ty

singing along to mu

m

ford and sons all the way.

tov!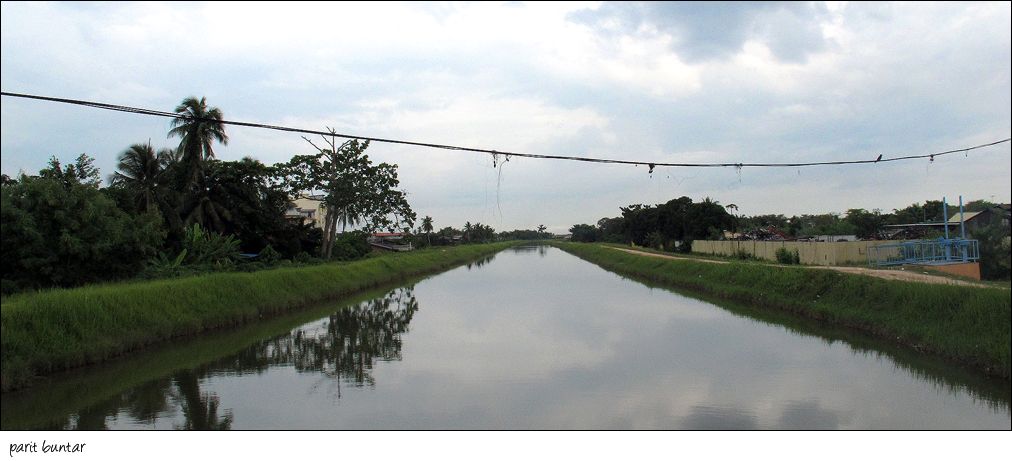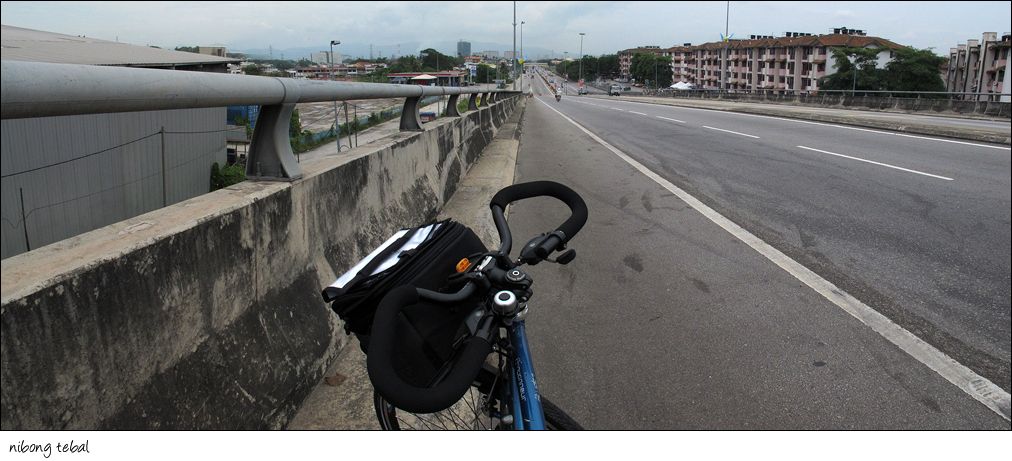 the view was great, it was cooling and windy up there on the bridge.

snapped loads of photos then brokeout into an
energy break picnic

with 2 sneakers bar a bottle of revive and a handful of peanuts

whil

st

enjoying the blue sky the blue sea framed by the rotototototos of dainty tug boats. the fare for bicycle onto the ferry

was rm1.20. arrived

in Georgetown at about 3pm.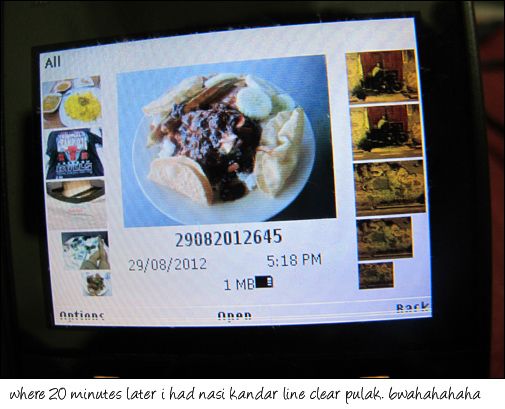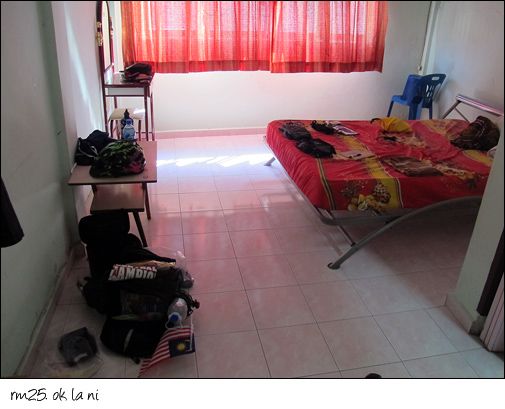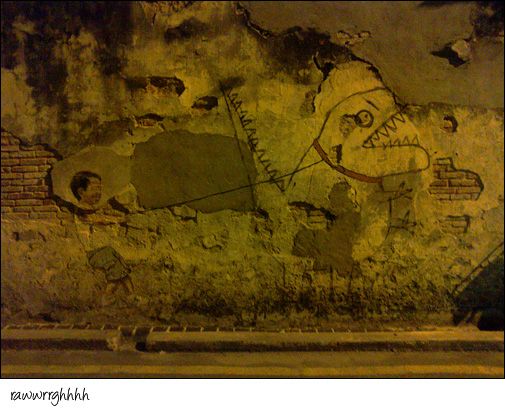 was in padang brown hanging out with my buddy areep, bassist terkemuka dari kumpulan damn naked dirty apes when suddenly a wild ghost festival scantily clad ladies dancing troupe appears!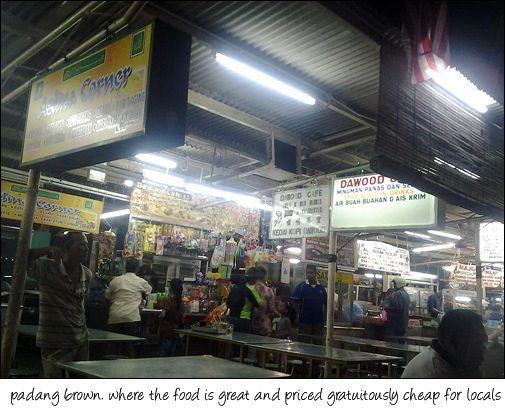 since im already in

G

eorgetown, its not a viable option lah to backtrack the many km back into

S

impang

P

erai to ride up north via

B

utterworth,

Y

an and

A

loq

S

tak. so i decided to take the ferry to

L

angkawi. where from

L

angkawi you can catch the next connecting ferry out to Satun's Tam Malang jetty.
Day

5

: S

tranded in Penang
b

ut big mistake la when the next day i woke up at 1

0

am, then jalan lenggang kangkung confidently assumed the availability of the

L

angkawi ferry after reading the alleged schedule on the net, where quickly i got shot down by the kakak counter that the Langkawi ferry departs at 730am and 830am

-

only 2 trips per day. so the lesson here

is that,

dont trust everything that you read on the net

.

actually it would have made perfect sense for me to reconfirm th

e schedule

and just walk the 500

meter

distance to the ticket office the day before. but yea, no use crying over spilled jagermeister (!!!) so after some

nonexistent

hair pulling moment

,

gratuituous colourful language directed to no one in particular and frantically looking

, wondering

at my map how

w

ould i reach alor setar by 5pm then i decided

that

stranded

-

in

-

penang

day is lepak malas chill the fuck out day.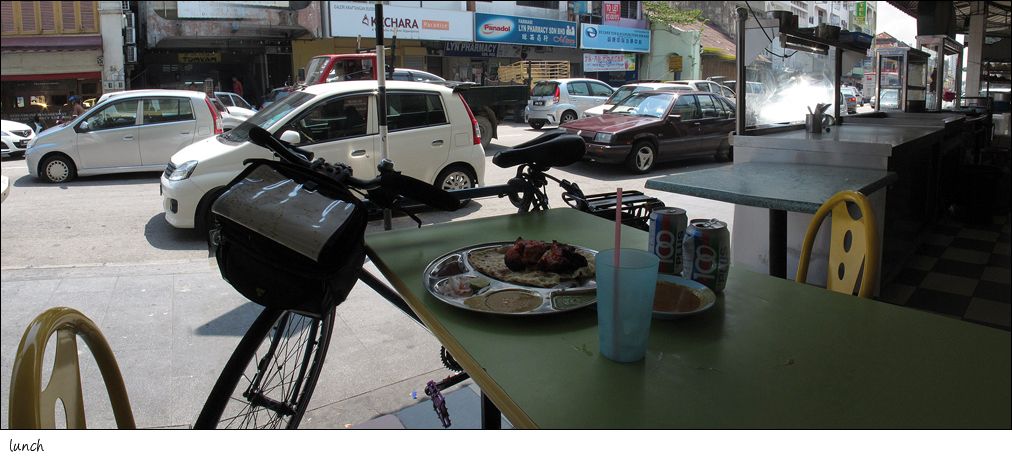 so afterwards i did some routine bike maintenance thingy lepaked in charbucks (because their coffee tastes charred and over-roasted) for a cuppa overpriced joe tumpang wifi research route then i rode all over Georgetown for breakfast and lunch. balik bilik switched on aircond full blast and hid under the blanket while watching day time soap tv, wonderpets and indonesian prety tanters sinetrons.
Day

6

: Georgetown - Langkaw

i - Satun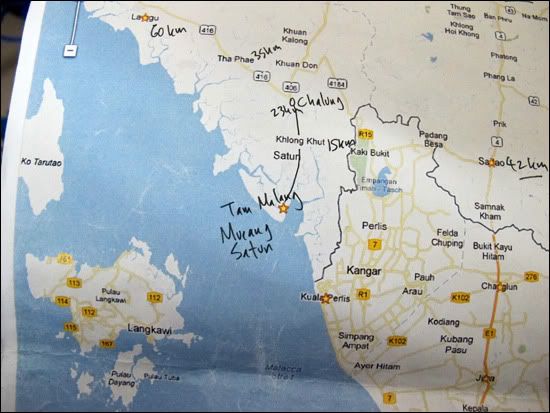 ticket was 60 clams, 8.30am from Georgetown and you'd reach Langkawi about 12 noon. then the connecting ferry to Satun was at 1pm, ticket rm30 for a 90 minutes journey to Satun's Tam Malang jetty.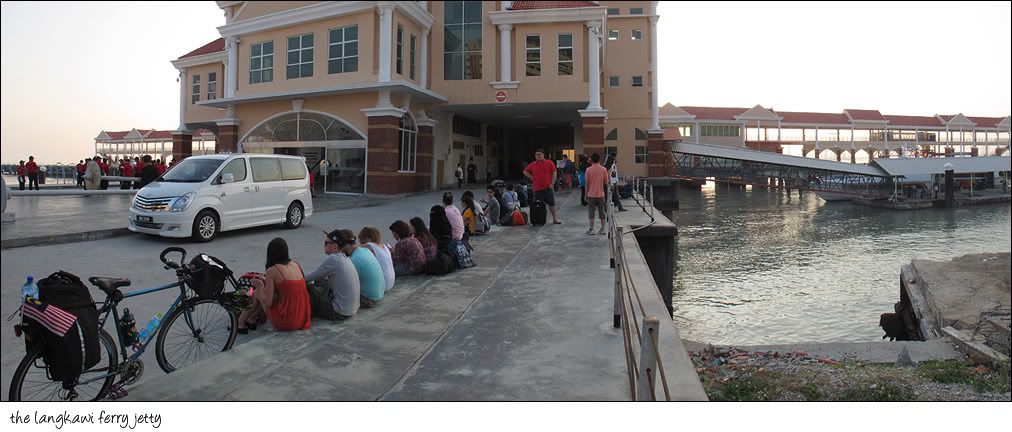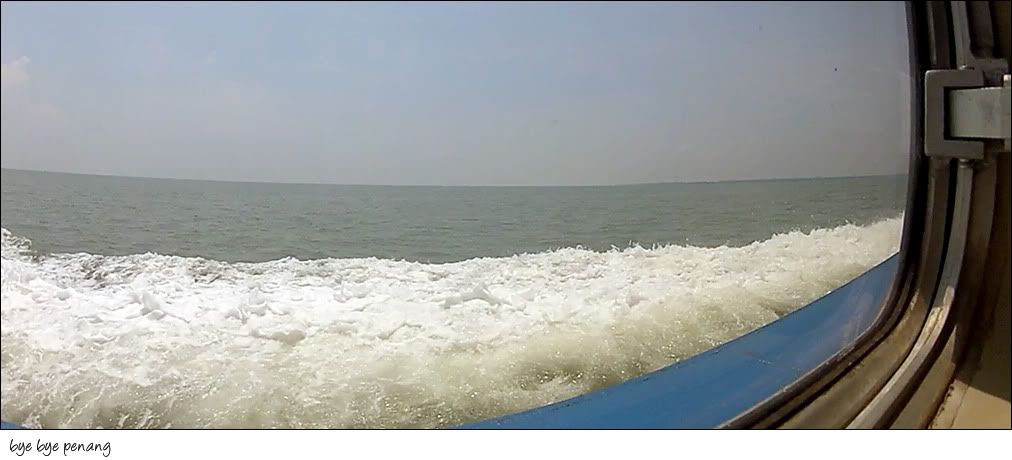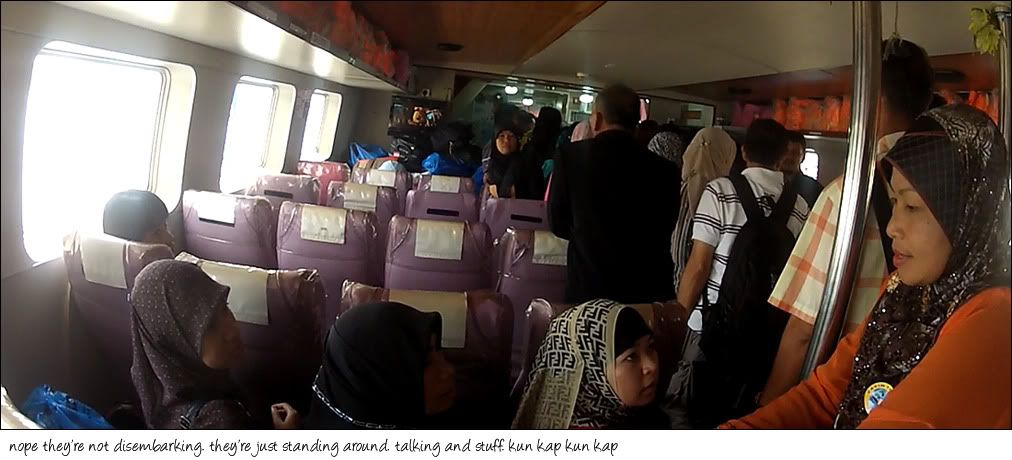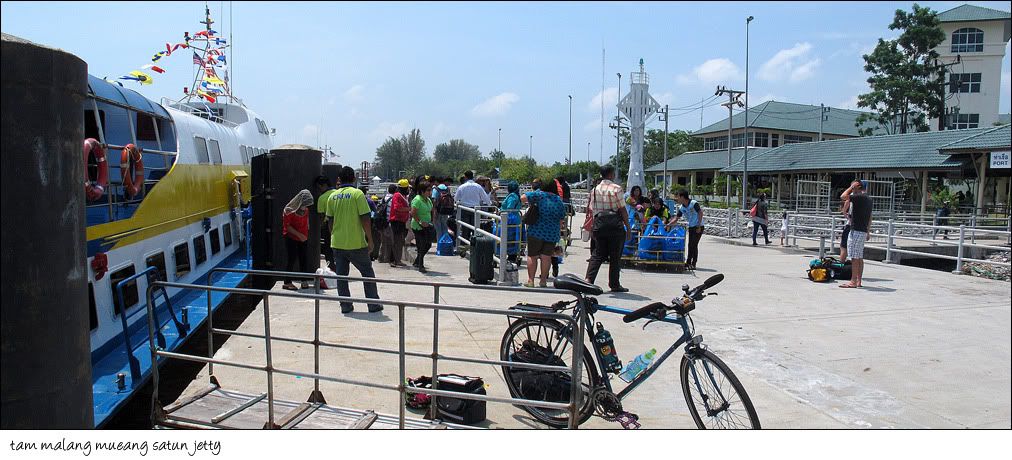 Thailand roads are awesome, they are very well maintained where pot holes are quite rare and you dont see those cracklin pop goin ons thats everywhere along Malaysian roads. theres even bicycles and motorbikes dedicated lane thats permanently etched all the way to Krabi. the Thais are super nice drivers too. the kids may look rowdy with their big silver chains, ivory earings studs, modded over the top loud 4WD and k-popstar faux-hawk side shaved hair-do but they constantly give ways to smaller vehicles and never seemed to be in a headless-chicken-needless-rush.
but Tam Malang was hot. like friggin fuckin hot wei. the kinda heat that induced saturated goosebumps all over and my eyes started to hurt because sweat drops were forming on my eyelashes. this is when vented sunglasses would be a pretty good investment. but thank god it was a short journey into town. 15km out from the jetty, i reached Satun town and checked in at the artsy Ang Yee's Guesthouse. it came highly recommended by a fellow tourer and for 350b for a fan room that's pretty much ok by me. its the same usual jig, budgety backpackers style place - shared loo and rustic looking. with cats. cats are cool.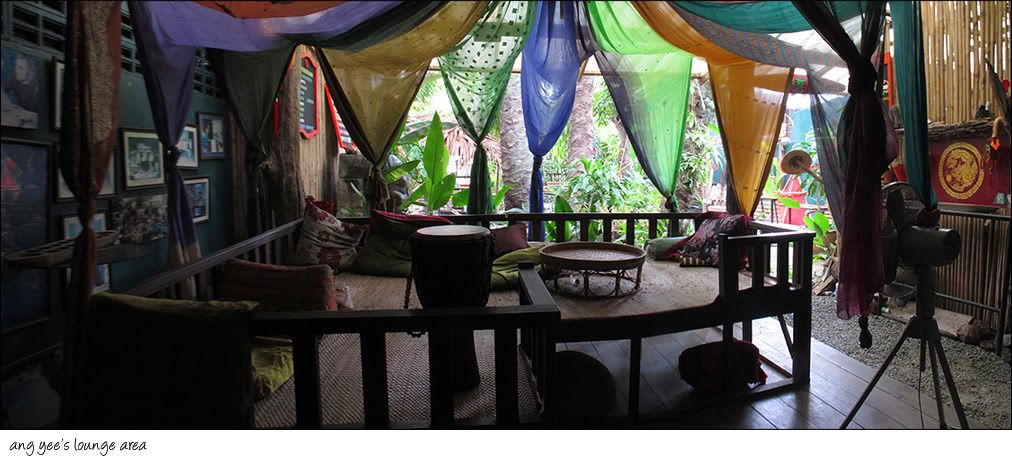 the guesthouse is right smack in the middle of town opposite the green Kasikorn bank. but jauh jugak la kena merayap about 20 minutes to get to the night market. and no there's no tut tut here.
you see boys and girls, the Thais have a certain fascination with markets. big towns like Bangkok, Phuket, Chiang Mai have permanent big huge ones that sells everything anything under the sun that goes on all day sampai malam. where as small towns have smaller ones thats segregated into multiple disjointed location that sells food, fruits, kueh, clothing, cars / bikes / lorries, meja, pinggan mangkok markets that only goes on half a day - either morning or night. since the markets are everywhere, if you want kueh kena pi belah sana and if you want fruits kena pi belah lain. and tak dekat, ada la 10 - 15 minutes away. so if you breakfast kena bangun awal. or kena makan roti & jem. blerghh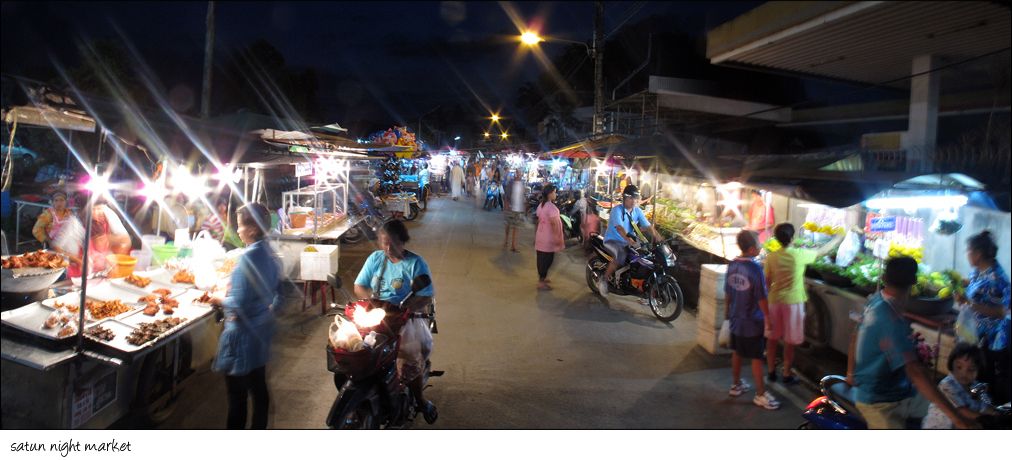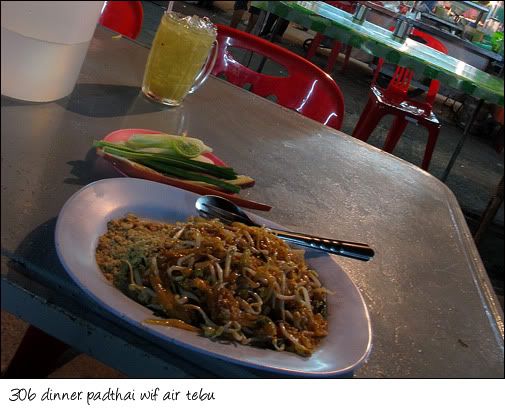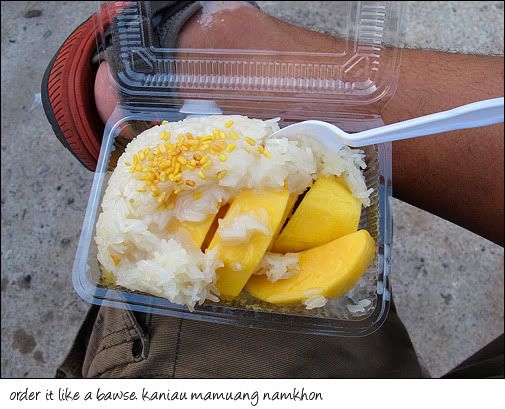 sambung lagi di lain hari
Part 1: Day 1 - 3. Kuala Selangor, Setiawan & Taiping
Part 2: Day 4 - 6: George Town & Satun
Part 3: Day 7 - 8: Trang
Part 4: Day 9: Krabi