the ride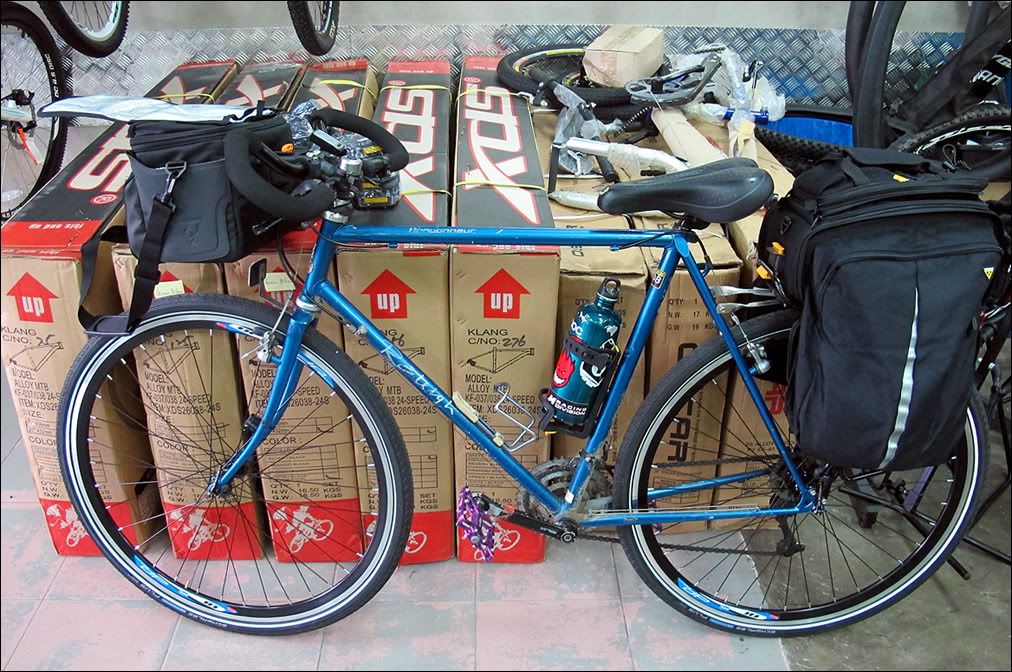 once upon a day i had an idea, which was to pedal to Krabi. for a year i was flirting and toying with that idea - occasionally laughing to myself on the incredulity of such silly notion. until the opportunity presented itself in the form of a sinking ship, albeit i had to quit from my job but in the same time a new job offer was available within reach.

so i had about 3 weeks before the new job starts so i kinda gave the idea a shot although it looks as if things weren't exactly going my way. my wheelset was bendy, hubs creaking, there wasn't any touring butterfly handlebars anywhere and 700c tires were out of stock. also, since it was after Raya, loads of bike shops were closed. i was also constantly had the what-the-fuck-am-i-doing question constantly bombarding my common sense.

but its like that very last seconds where you're piling all those colourful bricks in tetris and you're just few brick layers away to the top off the screen gameovering yourself, the long bar appears twice and everything kinda just... falls... into... place - screen blinked and you got through to the next level.

so suddenly, there were new stocks for Schwalbe Marathon 700c touring tires, the Greenbike shop in Sri Petaling was open for business and my wheelset got fixed hubs serviced and the butterfly handlebars shipped in from Penang 2 days before i left. the icing on the cake was when my brother Alif got me a fancy Cartier deodorant. i guess when someone got you an awesome deodorant you should stop questioning your life decisions.

the gear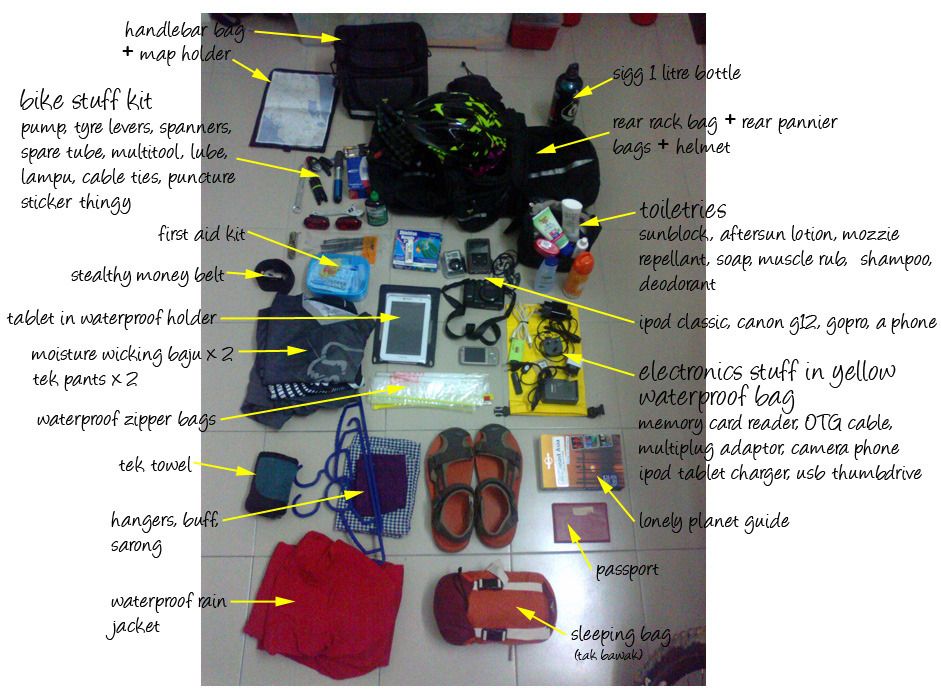 not in picture: 1 x (padded briefs, cycling shorts, dryfit tshirt), UVed sunglasses, notebook + pen.
note: the clothes and jacket were packed airtight in the zipper bags while they're in the panniers
google "touring equipment" or "shit i should bring on a loony long distance bicycle touring trip" there's tonnes off equipment ideas and you're spoilt for recommendations as in what to take with you. so objectively im not gonna tell you what to bring but instead id tackle the equipment subject a tad differently.
some important stuff to remember is that the stuff you bring should reflect on where you're going, know your bike frame + panniers + wheelset combination maximum weight load and be aware of the weather and political climate of said country you are going.
things im glad i have brought along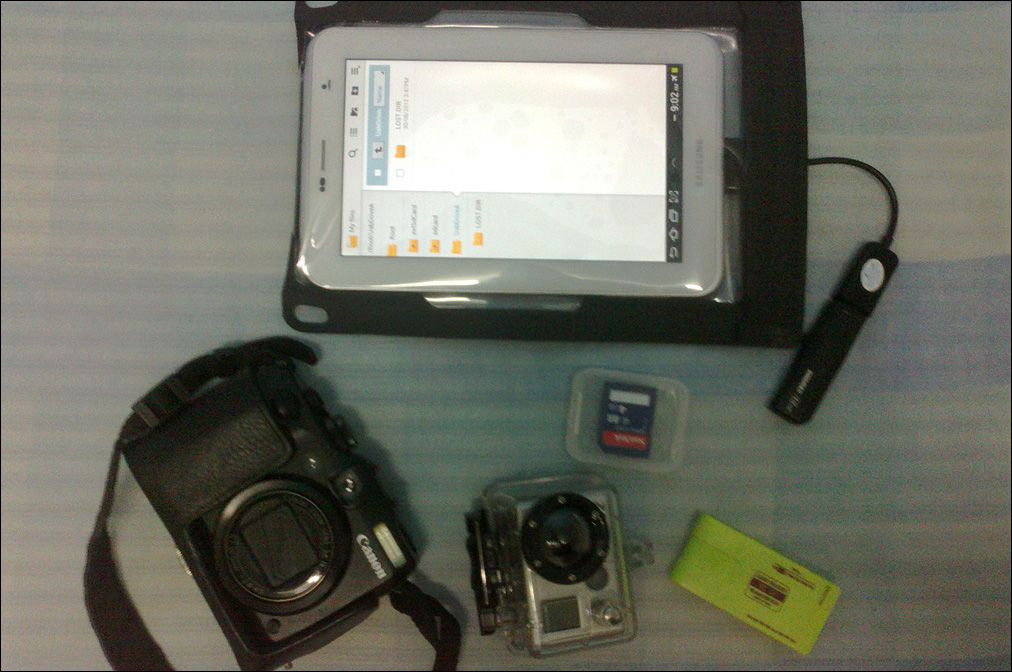 the galaxy tab - OTG cable - memory card reader - USB thumbdrive combo
so i took lo
ads
of photos and videos through out the trip. ok seriously - gajahzillions amount of photos and approximately about 40 gigs of video from my GoPro chest cam. these are indeed precious to me but i cant be arsed to carry 10 pieces of memory cards to store them all or carry a laptop with me.
before i go on id like to explain that i dont believe in using a big capacity single card 16 / 32 / 64 gig mmc for photos / videos because the last thing you want is to see it fail on your ass at the best opportune moment on the road and have everything stupidly formated or got your camera stolen and everything is fucking gone. GONE.
so with the tablet and the USB thumbdrive, every night i backed up both my photos and videos into the tablet internal memory card, uploaded some to google drive when i go to bed (hotels with wifi), and the OTG cable connection enabled me to have a 3rd photo / video backup into a usb thumbdrive. yes, im anal. i use two 4G memory card for my Canon G12 and GoPro cam to ensure everything is manageable in small chunks.
an additional investment of a seal line waterproof cover for the tablet ensures that i could just stuff the tablet in my handlebar bag and browse googlemap under the rain with my gloves on.
a SARONG
ohh good gosh what great piece of clothing. a sarong is the most amazing and ridiculously versatile item in the world that NEEDS to be in your pack. It's seriously more awesome than Kat Dennings rolling around naked on a bed of M&Ms. ok maybe not.
the all-purpose sarong serves mainly as go to bed pants. after a whole day pedaling with the tight padded shorts my balls were singing beautiful songs of freedom. it also serves as a lightweight blanket or if the sheets are kinda gross, you can lay it on top and not fear catching some weird skin disease. it's also a modesty wrap for temples and you can fold it up and prop your head up as a instant pillow. it's amazing, dries quick, packs light, and the possibilities are limited only by your creativity and manual dexterity.
comfy no-stink adventure sandals + spiked downhill pedals

instead of bringing shoes and needing to manage wet socks and stinky feet, i invested in a good pair of sandals. it has a funky antibacterial waterproof surface that wont stink if its in contact with water or if you just happen to have really sweaty carcass smelling foot. the soft soles guarantees adhesive vice like grip on the spiked downhill pedals like a singaporean SPG girl to a white guy. this two combination lets me mash the pedals without loosing my grip and footing.
and the thing about staying in guesthouses is that most off them have shared bathrooms and you HAVE to bring flip flops. so instead of bringing shoes, then worrying about socks plus the added weight / space off a flip flop - all i had was the Teva. and the best bit was, anytime i felt like jumping into the sea, so off i go with my sandals on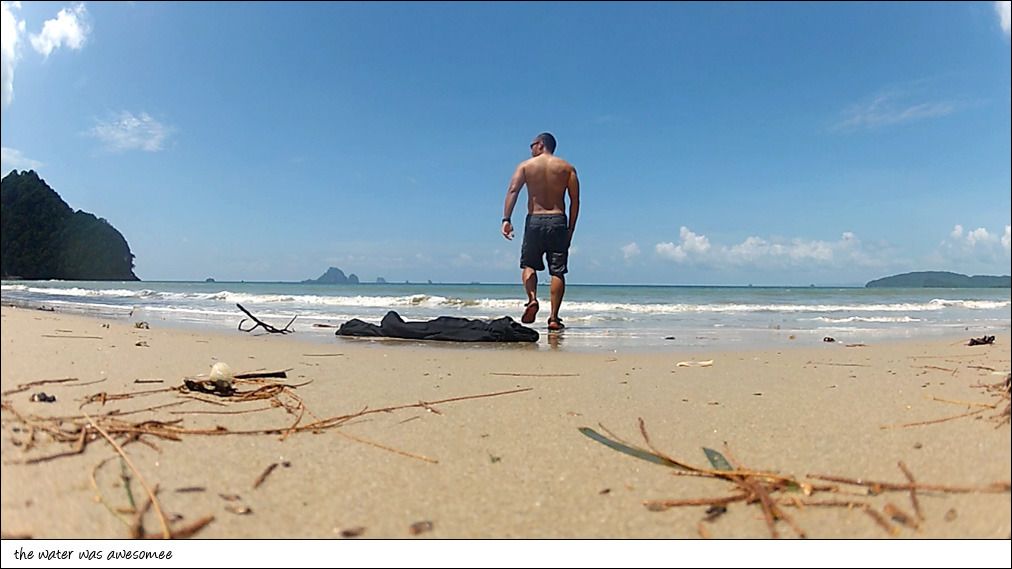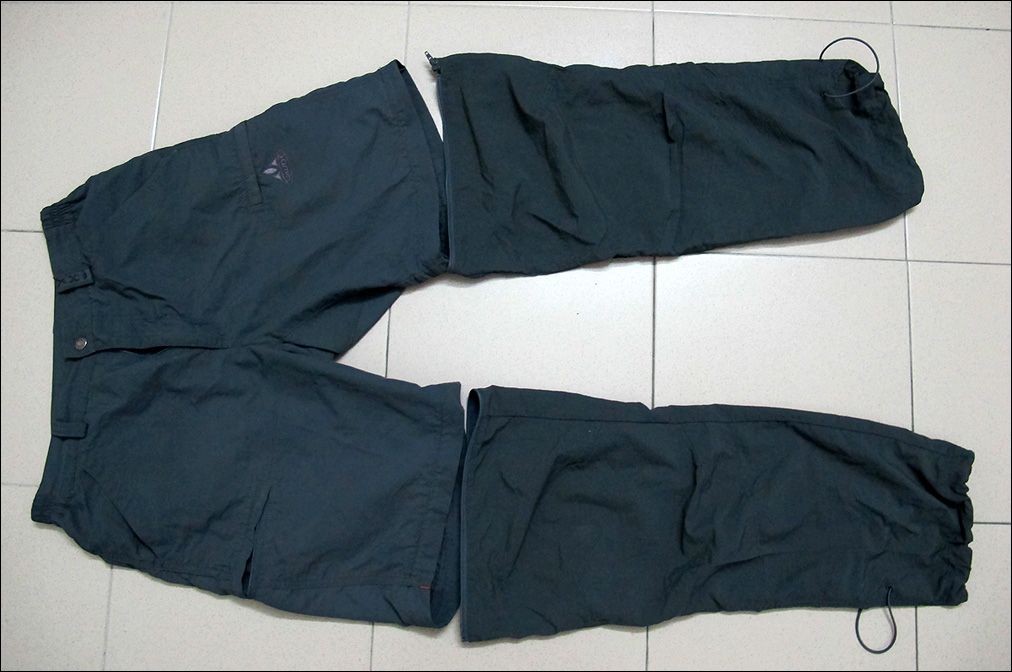 tek pants
tek pants are awesomesauce adventure pants with a temperature control super powers thingamajig, that when the temperature is cold its snugly warm and when its warm my balls are singing cooling wonderful hymns.
they are quick drying too, so if you happen to have a momentary lack of judgement (i got that quite alot) and jumped into a river, sea or that sexy looking fountain in the middle of a very hot day - after 10 minutes of walking around they'd be dry. and the ability to wick moisture quickly also means when ever i wash em and hang them up to dry at night, the next morning they'd be completely dry.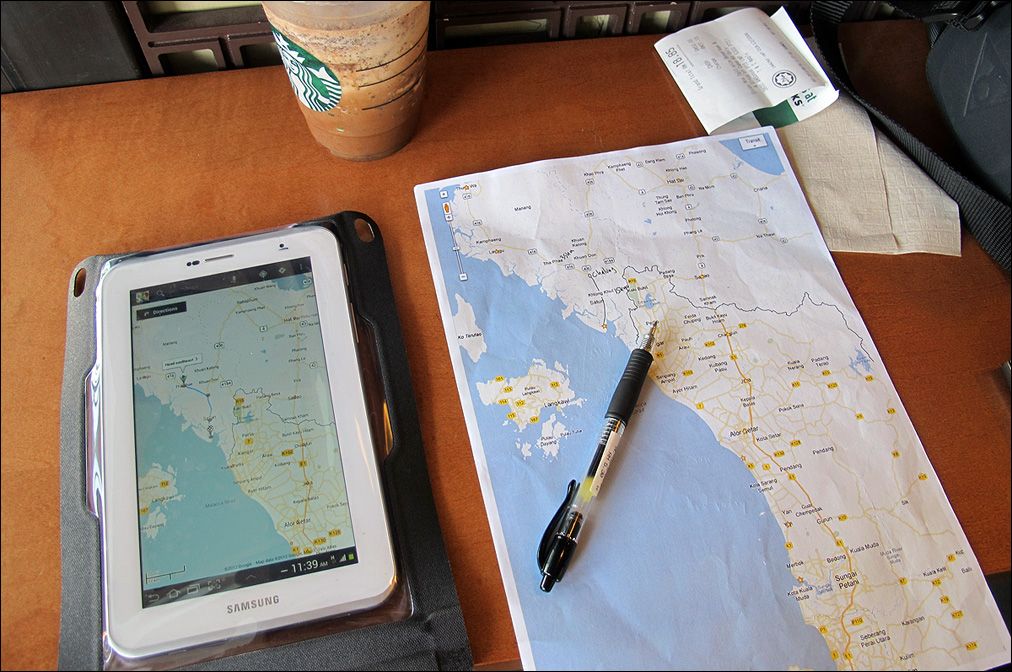 printed maps
instead of relying on electronics (also making me look like a viable target whenever i take out my smartphone / gps device / tablet) and facing the inevitability of battery drain on the road (then needing to bother with dangling usb external batteries, extra external batteries, solar power charger lah fuckass dynamo bullshit to charge your fancy gadget), i printed all the maps for my route. made notes on the map - distance, names of the next town (as mental checkpoints) and zoom in for shortcuts then mount them on the handlebar bag with a waterproof clingwrap-like-cover for easy and quick access. i can easily scan the roads / signboards ahead and compare them with my maps quickly.
with printed maps, interacting with the local populace will be unavoidable and this is the best time to practice the local lingua. good luck.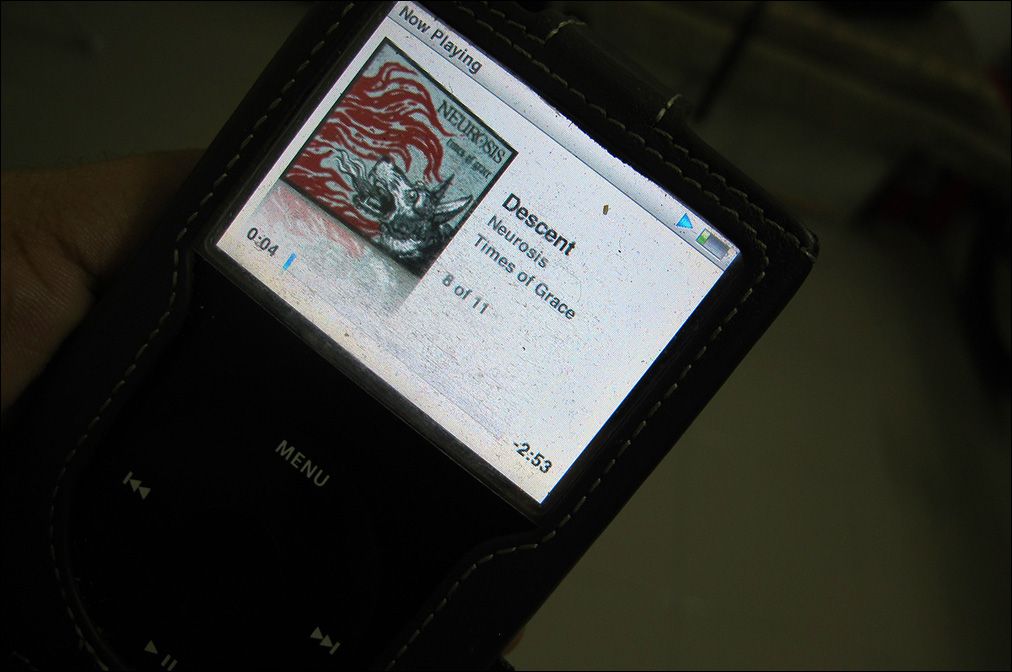 mp3 player
although the next town is only 15km away but the sun is slowly setting, there's no road lights and it'll be dark any time soon. you've covered more than you can and your water is finished, your stamina is gone, there's no more energy pods, peanuts or fruits left. your legs are jiggly jelly-o, your body is telling you to stop stop staphhh.
this scenario has happened to me more than once but thanks to the the ipod, which is a loan unit courtesy of Cik Amalina from
junkfortheheart.tumblr
i managed to haul myself from the brink of nak nangis kepenatan. with daily 8 - 9 hours of use, the ipod classic was able to last for 5 straight days on a single charge. awesome piece of device.
others:
sunglasses - oh ho yes a must have
buffs - they're great for everything.
stealthy money belt - yea, so you can sleep with your money on or take it with you to the loo if you're staying in dorms
hangers - for laundry and to air out the stinky padded shorts. no not all guesthouses have hangers
things that im unsure if i should have bothered at all
a lonely planet guide book (rm100)
its big, fat, heavy and only has information on big main towns. my extensive pre-ride research and the printed maps helped me alot. the guide was a just-in-case-if-i-got-lost precaution but i didnt even peeked through the guide. cause you know, if you happened to get lost, hey just ask the locals for directions lah. learn some local dialect and why bury your nose in a guide, be oblivious to your surrounding, kiasuing in reaching your destination on time but tak savor the wonderful trip itself? plus i brought a condensed south east asia version where there weren't any information for small in between towns at all. an alternative to hauling the whole book is that i could have just downloaded the PDF version and printed out only the sections i need.
a compass (rm30)
unless you're in the middle of the desert or the forest with no man made features, you need a compass. on the road, just align the map to the roads or ask the passing locale. tsk. buang duit aje beli
more than 2 pairs of clothings
including what im wearing, i kinda brought 3 pairs of tshirts and pants, where i should have just brought only one dryfit tshirt and leave the rest. because if i need anything, i can just easily purchase them along the way. since i do laundry every night (the purple heads and shoulders are the best shampoo detergent), turns out im carrying abuncha deadweight clothings.
towel
the sarong is a great towel replacement and all the places i stayed, none which are more than RM40 per night - they all gave me towels. so although the tek towel is a great quick drying towel but i didnt even use it at all. a deadweight.
toiletries
i can just buy what i need along the way. no need to haul all everything what i thought i might need. plus, guesthouses usually give out those small complimentary soaps.
riding notes

Malaysia
- roads sucks, no dedicated lane for motorcycles or bicycles and W plate drivers are assholes
- they are plentiful of shops along the was, so hydrating is easy
- digi prepaid internet sucks in up north small towns. Penang aje ok.
- shops are open early so you can easily munch down a massive carbo fuel breakfast and head to the next destination before 8am.
Thailand
- just like Bangkok there is no free wifi at all. your best bet is in coffeeshops and guesthouses / hotels. im making this comment because you can get free wifi in mid Jakarta, Siem Reap, Vientiane, Hanoi and KL.
- isotonic drinks like 100plus or Revive is not available, only those crazy sugary tiny bottle of Shark or Redbull. those isotonic tablet to add in the water sounds like a great future idea. Singha or Chang is not a good hydrating option by the way. i tried.
- water and fruits are wayy cheaper compared to Malaysia. pear is a splendid hydrating option
- Thailand have loads off markets. in 1 town there can be a multiple morning markets, afternoon markets and night markets in separate different locations all together. so if you want cheap food, this is where you should go. there wont be any directions or signboards, you have to ask around. Si tao rai?
- shops are only available in towns and average in-betweens are about 30km away from each other
- nice roads. almost 95% roads from Satun to Krabi have dedicated lane for motorcycles bicycles and all vehicles naturally stops and give way to bicycles . this awesomeness made me rode without a helmet on. oh yes. i rode without a helmet in Thailand. im hardcore.
- so if you plan to carbo load during breakfast and go before 8am you're out off luck. most shops are open at 10am onwards. best bet is to ask around the day before where is the early morning market and pack some pulut (sticky rice) for carb fuel pods along the way